Little-Known Facts About Mining and Metals


Think you know just about everything there is to know about mining and metals?
Maybe not. Take a look at some of these interesting, little-known facts:
1. Copper and gold were the first metals discovered by prehistoric man.
In fact, copper dates back to about 9000 BC. Archaeological evidence indicates that Stone Age man learned to fashion gold into jewelry around 4000 BC, while copper was used to make tools and weapons about 200 years earlier.
(Archaeologists have even unearthed 5,500-year-old copper drain pipes that are still in good condition!)
Copper smelting, of course, came much later and was independently invented in different places. For example, it was probably discovered in China before 2800 BC, in Central America around 600 AD, and in West Africa about the 9th or 10th century AD.
On a related note, slag found on islands in the Aegean Sea suggests that man may have separated silver from lead as early as 3000 B.C.!
2. The average American uses more than 664 tons of minerals over the course of a lifetime.

According to the U.S. Geological Survey, this mineral usage breaks down as follows:
800 pounds of lead
750 pounds of zinc
1500 pounds of aluminum
32,700 pounds of iron
26,550 pounds of clay
28,213 pounds of salt
1,238,101 pounds of stone, sand, gravel, and cement (See related article, Aggregate Minerals…Everywhere, But Often Overlooked.)

Yeah…we're dependent on mining.
3. Zinc is 100% recyclable.
As metals go, zinc can be recycled infinitely and does not lose any of its physical and chemical characteristics in the recycling process. Which is why about 90% of all collected zinc-containing products are currently being recycled.
–Article continues below–


One of the most widely applied zinc recycling procedures is called Electric Arc Furnace (EAF) heating. It's used primarily on scrap galvanized steel. Here's how EAF works:
The collected scrap is heated until the zinc evaporates, separating from the steel as a gas.
This gas is then collected and cooled in nitrogen, causing the zinc vapor to solidify as zinc dust.
The dust is then treated in a rotary kiln, transforming it into zinc oxide, which is the raw material used for the production of zinc metal.

4. Aluminum was once considered more precious than gold.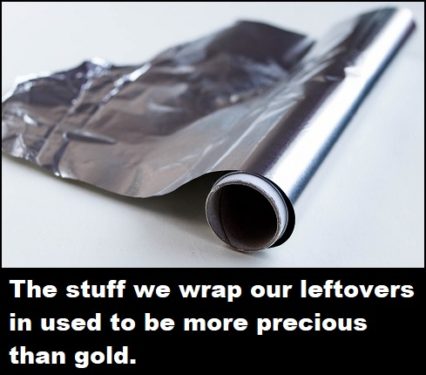 It's the most common of metals found in the earth's crust (almost twice as abundant as iron). Unlike iron, however, there's no easy way to extract aluminum from ores, no matter how much you heat them. As a result, no one succeeded in isolating aluminum until the 1820's. That's when German chemist Friedrich Woehler was finally able to extract a few flakes. By 1845 he was creating small balls of the solidified molten metal. And aluminum became an instant hit.
Its color and luster simulated the sparkle of gold and silver; aluminum became a brand-new precious metal. In fact, aluminum was even more precious than gold and silver in the 19th century, because it was harder to obtain.
The French government once displayed Fort Knox-like aluminum bars next to the crown jewels, and Emperor Napoleon III reserved his prized set of aluminum cutlery for special guests. (Less favored guests used gold knives and forks.)
Not to be outdone, in 1884, the United States capped the Washington monument with a six-pound aluminum pyramid.
Alas, by 1886, American and European researchers figured out how to cheaply separate aluminum from other metals (and how to produce it on an industrial scale). The honeymoon was over for aluminum.
By 1888, the largest U.S. aluminum company (which would later become Alcoa) was producing almost 50 pounds of aluminum a day. Twenty years later, that figure had mushroomed to 88,000 pounds per day.
5. Wyoming produces more coal than any other U.S. state – a lot more.
We often think of coal production as an Appalachian industry, as coal mining has predominately been associated with West Virginia and Kentucky. But it's actually Wyoming that's been the country's top coal producer for a long time. Since 1986, to be exact.
According to the Wyoming State Geological Survey (WSGS), Wyoming produced 316 million tons of coal in 2017. That's 41% of the country's entire coal production. The state's top 10 producing mines are located in the coal-rich Powder River Basin.
The following WSGS video showcases operations at the Arch Coal's Black Thunder Mine:

So why do we still associate coal mining with Appalachia? Probably because more coal miners are actually employed in Appalachia than in Wyoming. In fact, Appalachian mines employ 56% of all coal workers, but produce only 24% of the country's coal.
It's not the miners' fault—it's just geology. Wyoming coal is accessible on the surface, and the machines that harvest it are as big as the engineers can build. Whereas Appalachia's coal mines are much smaller and largely underground. Smaller mines require smaller equipment which equals smaller yields.
Sources:
Featured image by Philip Kromer
Featured Image: Creative Commons