Mine Safety Is No Accident
When Roy Mullins reported to work at a surface coal mine on May 28, 2015, he had no idea he would never return.
While attempting to attach a chain between a tractor trailer and a grader, Mullins was pinned between the two pieces of heavy equipment. He died instantly.
A Dangerous Business
No doubt about it. Mining is one of the most dangerous jobs on the planet.
While only 1% of the world's labor force is actively engaged in mining, the industry accounts for 5% of all on-the-job fatalities. Accidental deaths result from rock falls, tunnel collapses, blasting mishaps, heat exhaustion, and other dangers.
Most mining accidents occur in underground mines. But surface mines present their own dangers, as Mullins' case illustrates. Here are the most common causes of accidents in surface mines:
Fire in the Hole!
mine safetyBlasting is a necessary part of most surface mine operations. For the past 20 years, most explosives-related injuries in surface mines occurred when workers were struck by flying rock.
Sometimes the miners were too close to the blast. Sometimes the rock was thrown much farther than expected.
And sometimes, explosives are detonated prematurely. This is usually due to carelessness or a faulty fuse. Either way, the result is often debilitating injuries and death.
And occasionally, explosives will misfire. That is, they will completely or partially fail to explode. The unexploded charge could then be triggered by another mining process, such as digging, milling or crushing. According to the CDC, accidental detonation of misfires is a frequent cause of personal injury, equipment damage, and lost production.
The best protection against injury from flying rock is to always wear personal protective gear. Hard hats, safety goggles, face shields, work gloves and specially designed boots. Most workers who are injured in mining accidents failed to follow mine safety protocol in wearing protective gear.
Watch Where You're Going!
Collision between machinery or between machinery and personnel is another one of the most common causes of accidents in surface mines.
mine safetyMost mining sites have many different vehicles that are used throughout the area, including cement trucks, cranes and bulldozers. These large vehicles seldom provide good visibility, which can make them very dangerous for nearby workers.
Taking the time to plan out a vehicle traffic area (away from foot traffic) can go a long way toward helping to keep workers safe.
But new innovations in mine safety go even further.
For instance, proximity detection technology can be installed on mobile machinery to detect the presence of personnel or machinery within a certain distance of the machine. And miners can now wear RFID tags which can be read by detectors mounted over the machines. These systems are designed to warn operators with audio and visual indicators to prevent collisions, speeding or rollovers.
–Article Continues Below–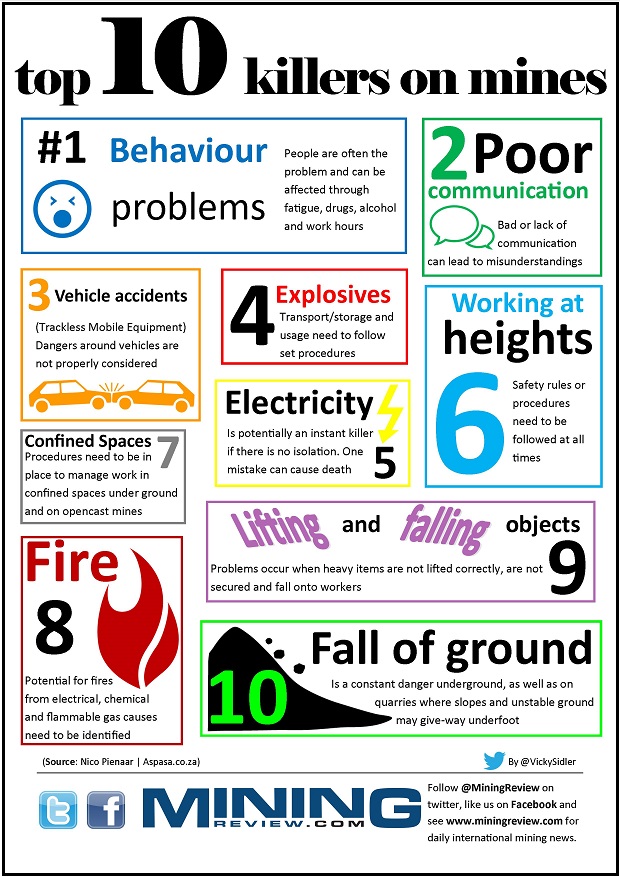 Stay Alert!
Miners often work long hours. As a result, fatigue in truck drivers and machine operators is a common cause of accidents.
Mine operators can help combat worker fatigue by ensuring that schedules allow adequate time for recovery sleep. They should also minimize extended shifts.
For their part, mine workers should try to get at least seven hours of sleep over a 24-hour period. They should also avoid alcohol and caffeine prior to sleep.
In addition to these measures, new mine safety technology can now be used to detect the onset of fatigue and "microsleeps."
These fatigue-monitoring Driver Safety Systems use patented eye- and head-tracking technology. A dashboard-mounted camera constantly detects the fatigue and distraction in the driver's eyes and creates an alert when necessary.
Here, a Caterpillar safety expert explains how it works: