What's the World's Longest Conveyor Belt?


As infrastructure goes, conveyor belt systems provide a handy means of transporting continuous streams of materials over roadless terrain.
They're particularly useful in the mining industry. Since most mines are located in fairly remote areas, mining conveyor systems often stretch over many miles. In fact, some of the longest conveyor belts in the world are designed to transport ores to refineries or ports.
Let's take a look at some conveyor belt world record holders…
Longest Conventional Conveyor
At the top of the list is the 61-mile conveyor belt that runs from the Moroccan-controlled Bou Craa phosphorus mines in Western Sahara to the coast. Built in 1972, this system can shuttle 2,000 metric tons of rock per hour to the port city of El-Aaiun. From there, cargo ships transport the phosphate rock around the world, where it is used primarily in fertilizer production.
And while this winding system of interlinked belts may not be as grand or glamorous as the Great Wall of China, it can be seen from space. (Whereas, according to NASA, the Great Wall really can't.) Apparently, the strong desert winds blow the lighter particles of the white phosphorus ore off the conveyor belt. The result is a bold ivory streak along the length of the entire conveyance system, evident in NASA satellite images.
Longest International Conveyor
In the state of Meghalaya in India lies the world's longest single-belt international conveyor. It's about 17 kilometers (11 miles) long — seven kilometers are located in India and 10 kilometers in Bangladesh.
Built in 2004, this conveyor belt shuttles limestone and shale from an Indian quarry to a Bangladesh cement factory. And it does so at a rate of about 960 tons per hour.
Because Meghalaya is one of the wettest places on the planet, the entire conveyor has been placed on trestles. It sits at least 16 feet above the ground to avoid being flooded during the monsoon season. And its unique rollers are designed to accommodate both horizontal and vertical curves along the terrain.
Overhead trolley vehicles were specifically designed for the maintenance of this unique conveyor system. A maintenance vehicle for each country ensures that designated crews do not have to cross the border.
Longest Suspended Conveyor
The hilly plains of Barroso, Brazil, are home to the world's longest suspended conveyor belt. Known as the "flying belt," this innovative system was designed by Leitner ropeways to transport 1,500 tons of limestone per hour over a 7.2-kilometer stretch, from quarry to cement plant.
But the unique feature of this aerial conveyor is its minimal impact on the environment. It combines the advantages of standard belt conveyors with ropeway conveyors, enabling the material to "fly" over obstacles. Take a look:

Because the flying belt only touches ground in a few spots, ground construction was minimized, further reducing environmental encroachment. In addition, electricity consumption of this aerial conveyor is about one-third that of conventional ropeway systems.
This just might be the wave of the future for mining conveyors.
World's Fastest Conveyor Belt?
In November of 2016, automation giant Siemans announced it had successfully installed "the world's fastest" overland conveyor belts. The two belts are being used by open-pit mining operator Kaltim Prima Coal in East Kalimantan, Indonesia.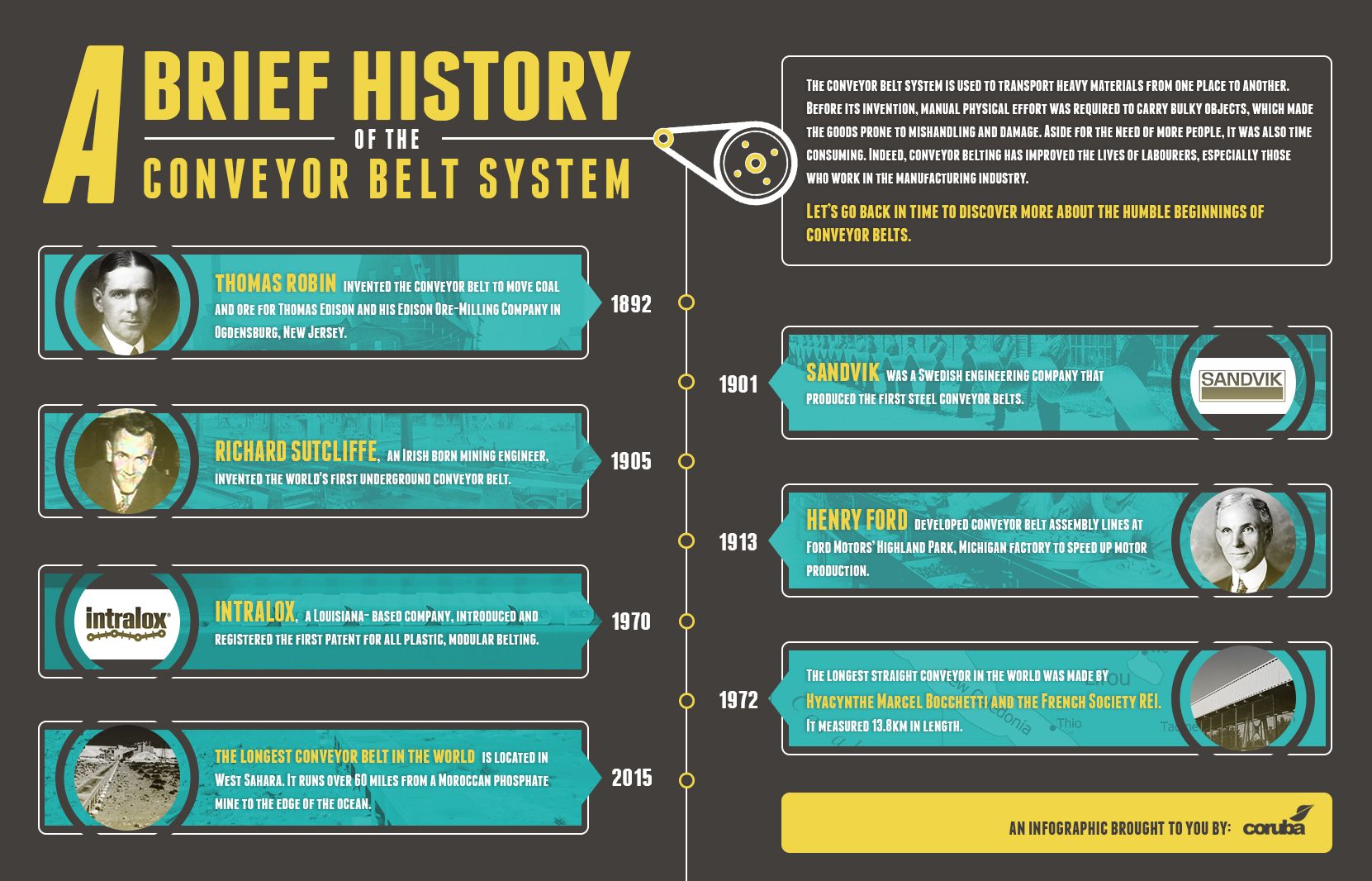 One of the belts is a curved conveyor, operating at the speed of 7.5 meters per second (almost 17 miles per hour). The other belt is a straight conveyor, which reaches a top operating speed of 8.5 meters per second (almost 18 miles per hour).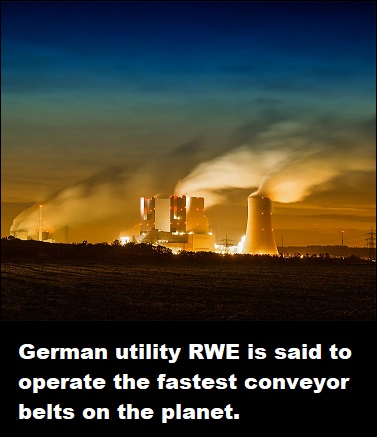 Both conveyors transport coal over a total distance of 25 kilometers, but require significantly less energy to operate than previous systems did.
So Siemans gets kudos for sustainability, but are their conveyor belts really the world's fastest?
Probably not.
According to numerous internet sources, the world's fastest conveyor belts operate on spreaders in the Rhenish lignite mines in Germany. These mines are owned by German electric utility RWE.
The belts' top speed? A whopping 15 meters per second, or 33.5 miles per hour.
Sources: