Things You Probably Didn't Know About the California Gold Rush
If you've ever wondered what it was like to be one of the original 49er's (the Gold Rush prospectors, not the football team), we've compiled some interesting facts about that golden era.
Take a look…
Fact #1: Even If You Were Rich, It Took a Long Time to Get There
Those living on the east coast of the United States in 1849 had three options for traveling to the California gold fields.
The wealthy could travel by ship — 17,000 miles around Cape Horn at the tip of South America. The trip could easily take five months.
You could combine sea and land travel by first sailing to Panama. From there, you'd have to jump on a horse or walk across the Isthmus of Panama. After reaching the Pacific side, you'd then negotiate another ship passage to San Francisco.
But the majority of California prospectors had to travel across the Great Plains by wagon along the Oregon and California Trails. In the summer of 1849, an estimated 25,000-30,000 fortune seekers chose this route. It was an arduous six-month journey for most.


Fact #2: The Prospectors' Camp Was No Place for Weenies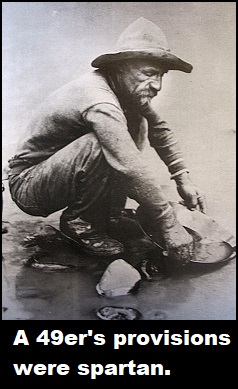 Gold Rush prospectors had to make do with the bare essentials. Provisions typically consisted of:
One canvas tent (to stay somewhat dry at night)
A pan, pick and shovel, which they could bring with them or buy upon arrival (for an exorbitant price)
One pair of boots, usually costing about $25 — very steep, considering the average 49er made about 6-$10 a day, and had to buy virtually all his own food…such as…
Bacon, coffee and beans were staples, as was a campfire bread called "damper." Sometimes mutton was available (but, of course, there was no refrigeration).

When cold weather set in, miners left the hills and wintered over either in the big city (i.e., San Francisco) or a nearby mining town. These towns were custom tailored to help miners part with their hard-earned gold as quickly as possible.
After many long and grueling months away from home and family, the temptations of whiskey, women and gambling were too hard to resist for most 49er's. Which brings us to our next fact…
–Article Continues Below–

Fact #3: The Chances of Striking Gold Were Mighty Slim
Most of California's surface gold deposits had already been depleted by 1849 — long before the largest influx of Gold Rush prospectors even had a chance to get there.
Gold RushSo despite what the advertisements of the day led you to believe, after about 1852, the only minable gold required more elaborate equipment and operations. All of the surface gold had already been "panned out." (Which, by the way, is the origin of that expression.)
The Gold Rush effectively ended in 1852.
Fact #4: You Could Still Get Rich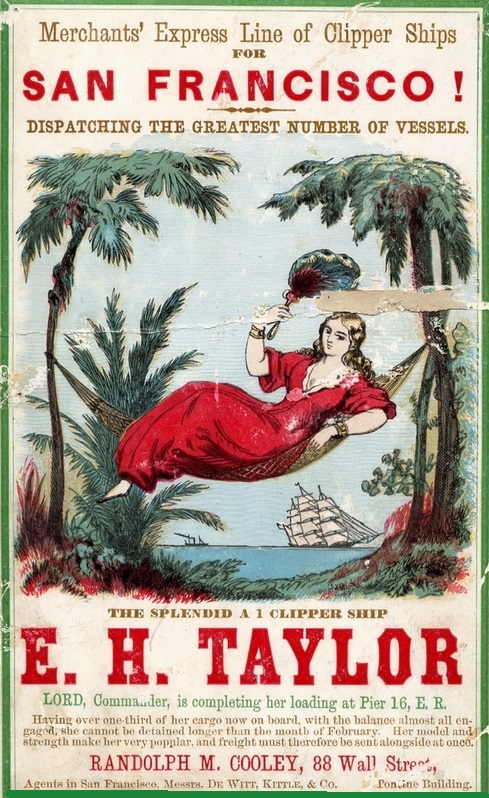 If you were like Levi Strauss, you never intended to make your fortune from mining, anyway, but rather by catering to miners.
The products and services miners needed ran the gamut from tools and equipment, food, clothing, banking, transportation and entertainment. Resourceful entrepreneurs set their prices high and raked in the profits.
In fact, the wealthiest man in California during the early years of the Gold Rush was Samuel Brannan, who early on purchased all the prospecting supplies available in San Francisco, and re-sold them at a substantial profit. Brannan was California's first millionaire.
Others founded successful ventures in retail, shipping, entertainment, lodging, food preparation, sewing, and laundry services. Many of these highly profitable businesses were run by women (who realized men would pay handsomely for these services). Brothels also raked in large profits, especially when combined with saloons and gambling.
The huge influx of population from the Gold Rush served to quickly establish the state of California. Before you knew it, San Francisco had transformed from a sleepy encampment to the largest shipping port on the West Coast.
Fact #5: The Man Who Started It All Never Prospered from the Gold Rush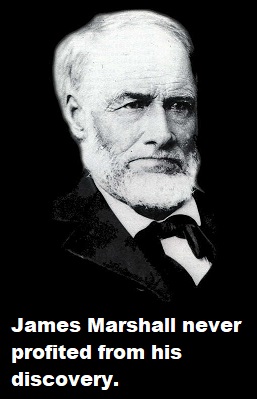 In 1847, a man named James Marshall was hired by prosperous mill owner John Sutter to build a sawmill at Coloma, California. On January 24, 1848, Marshall was the first to discover gold in a nearby creek. Here's how Marshall later recounted the discovery:
I picked up one or two pieces and examined them attentively… I then tried it between two rocks, and found that it could be beaten into a different shape, but not broken.
I then collected four or five pieces and went up to Mr. Scott (who was working at the carpenter's bench making the mill wheel) with the pieces in my hand and said, 'I have found it.'
'What is it?' inquired Scott.
'Gold,' I answered.
'Oh! no,' replied Scott, 'That can't be.'
I said,'I know it to be nothing else.'
That discovery proved to be a curse, instead of a blessing, to Marshall. All of his able-bodied laborers quickly deserted him to seek their fortunes in the gold fields. The mill eventually fell into disrepair and was never used.
John Sutter himself—the prosperous mill owner—couldn't make a profit, either. His lands were quickly overrun and nearly destroyed by prospectors. Before he lost everything, Sutter transferred his land to his son. Recognizing the commercial potential, Sutter's son immediately began making plans for a new town—called Sacramento.
Sources:
California Trail Interpretive Center