The Fastest High-Speed Trains on the Planet
(This is the first of a two-part series about high-speed trains.)
"Faster than a speeding bullet. More powerful than a locomotive."
The 1950's TV series Adventures of Superman always started with that introduction. More than 60 years later, it's the locomotives – the bullet trains — that are known for their speed.
Here's a look at some of the fastest high-speed trains currently operating on the planet:
Korea Train Express (KTX)
South Korea's high-speed rail service, known as Korea Train Express (KTX) is operated by Korail, the country's national railroad operator. Construction on the line began in 1992, and KTX services were launched in 2004.
high-speed trainsThe first iteration, the KTX-I, can reach a maximum scheduled speed of 190 mph. Its 20 cars can carry up to 935 passengers, and it is Korail's primary workhorse. Beginning in 2006, the first car of KTX-I trains has served as a moving cinema, featuring first-run films.
Korail's second KTX train, KTX-II (later named KTX-Sancheon) can seat 363 passengers in two classes. Its 10 cars offer enhanced comfort relative to the KTX-I.
For example, the seats are ergonomically built to fit the body shape of most Koreans. In addition, the restrooms use a vacuum system to ensure they remain clean at all times. The KTX-Sancheon is designed to achieve a maximum speed of 205 mph.
Eurostar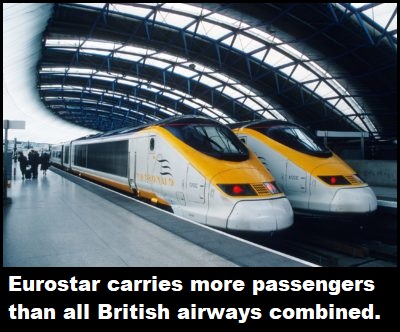 Eurostar is a high-speed railway that links the United Kingdom to France and Belgium. All of its trains traverse the Channel Tunnel (the world's second longest rail tunnel) between France and Great Britain. In fact, Eurostar is so popular with Brits that it carries more passengers than all British airways combined.
high-speed trainsThe railway was first launched in 1994; at that time the standard operating speed was about 106 mph. The train's most recent iteration (dubbed High Speed 1) set a British speed record of 208 mph in 2003.
Eurostar runs two to three trains per hour in each direction between London and the Channel Tunnel.
As of 2016, Eurostar amenities include Wi-Fi connectivity, as well as 300 hours of movies and TV, accessible from the train's servers. And, in order to cater to business-class passengers, the company recently unveiled an elegant lounge at its Paris station. The lounge is equipped with marble fireplaces, sofas, a sunken circular bar and a gourmet buffet.
Shinkansen

Japan's main islands of Honshu, Kyushu and Hokkaido are served by a network of high-speed train lines that connect Tokyo with most of the country's major cities. These "bullet trains," called Shinkansen, are operated by Japan Railways. The Tokyo-Nagoya-Kyoto-Osaka route is the oldest and most popular.
At its first launching in 1964, the Shinkansen cut journeys between Tokyo and Osaka by two hours. Today, running at speeds of up to 200 mph, the Shinkansen is known for its punctuality and efficiency. In fact, the average delay of a bullet train trip is just 54 seconds, including disruptions due to natural disasters. (Most trains depart on time to the second.)
This punctuality is particularly impressive when one considers that cleaning teams are posted along each train's route to polish off the cars within seven minutes. Each worker cleans about 20 cars per shift. Take a look:

The Shinkansen are also known for their safety. There hasn't been a single fatal accident involving passengers in the entire history of the railway. Considering the annual ridership is double that of New York City's subway, that's saying a lot.

AGV Italo
Manufactured by French multi-national company Alstom, the AGV Italo operates at just under 225 mph. It is currently ranked as the fastest among conventional high-speed trains. Which is why it has earned the nickname "Ferrari of the railways."
It is also the first privately operated high-speed train in Europe.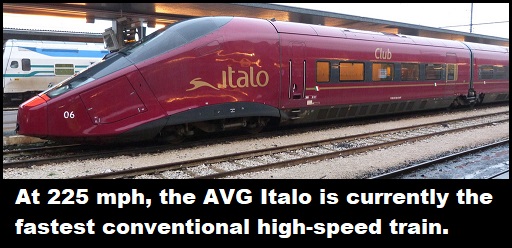 high-speed trainsThe AGV Italo entered service in April 2012 and is touted as the most modern and economic train on the continent. Alstom claims that 98% of the train's components are recyclable, and its energy consumption is 20% lower than its rivals due to the train's light weight. It's lighter, sleeker, faster and quieter than any of its predecessors.
This 11-car very high-speed train runs from Naples to Milan on the west coast of Italy. Its amenities include free Wi-Fi, live TV, a cinema car and comfortable leather seating.
A Whole Other Level
Taking the concept of high-speed trains to a whole other level (literally), are the magnetic levitation (or "Maglev") trains.
The Maglev employs a magnetized coil along the track which repels the large magnets on the train's undercarriage. This magnetic force allows the train to levitate between 0.39 and 3.93 inches above the track. Power supplied to the coils creates a unique system of magnetic fields that pull and push the train along.
–Article Continues Below–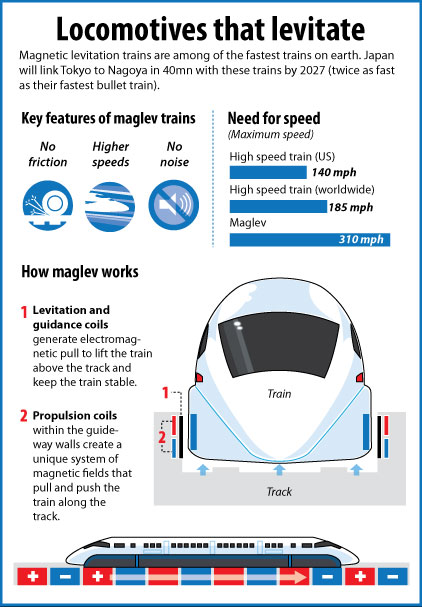 Maglev trains float on a cushion of air, eliminating friction. This lack of friction and the trains' aerodynamic designs allow them to reach unprecedented speeds of more than 350 mph in tests.
The Shanghai Maglev is currently the fastest commercial maglev train, with an operating speed of about 270 mph. Launched in 2004, the train connects Shanghai's airport to the outskirts of the city — a distance of about 20 miles. It makes that trip in seven minutes, 115 times a day. The Shanghai Maglev is punctual to the second, with a reliability greater than 99.97%.
But hot on its heels, a Japan Railway maglev train hit a whopping 374 miles per hour on an experimental track in 2016. This test run set a decisive new world record for high-speed trains.
What About the U.S.?
Although the United States has flagged pretty far behind other countries in its implementation of high-speed train technology, hope is on the horizon. Our second article in this series will look at what's going on in the U.S.
Sources: