Experimental Seabed Mining Stirs Controversy
The remotely controlled monster of a machine resembles a massive rototiller mounted on a hydraulic arm.

Its large, grinding wheels break up rock in order to smooth the mining surface. Then a second machine moves in, tearing away at the smoothed surface with a large spiked drum.
Finally, a third machine follows behind, sucking up the loosened material.
While this may sound like an ordinary mining operation, it is anything but. The surface, you see, is the ocean floor. And the machines are specialized mining equipment designed specifically for seabed mining.
Breaking New Ground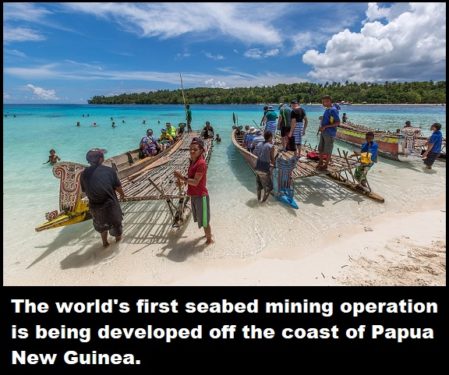 Although currently in the experimental stage, seabed mining could become the next big thing in offshore mineral exploration. At least, that's what Toronto-based Nautilus Minerals Inc. is banking on.
The Nautilus venture is currently scheduled to begin sometime this year off the coast of Papua New Guinea (PNG), in the Bismarck Sea. The company will attempt to mine deposits of copper, gold, silver and zinc from a depth of 1,000 to 1,500 meters. The mining site itself is the size of 21 football fields.
Very high concentrations of valuable minerals are found here. That's because a natural hot spring on the seafloor has been depositing layers of mineral-rich sediment for thousands of years.
Nautilus intends to draw the material into a long pipe, similar to the kind used in deep-sea oil drilling. The slurry would be brought up to production ships on the surface, and the mineral-rich material would be hauled to shore. To avoid harming tuna (which the local fisherman depend on), all wastewater would be filtered and pumped back to the seafloor.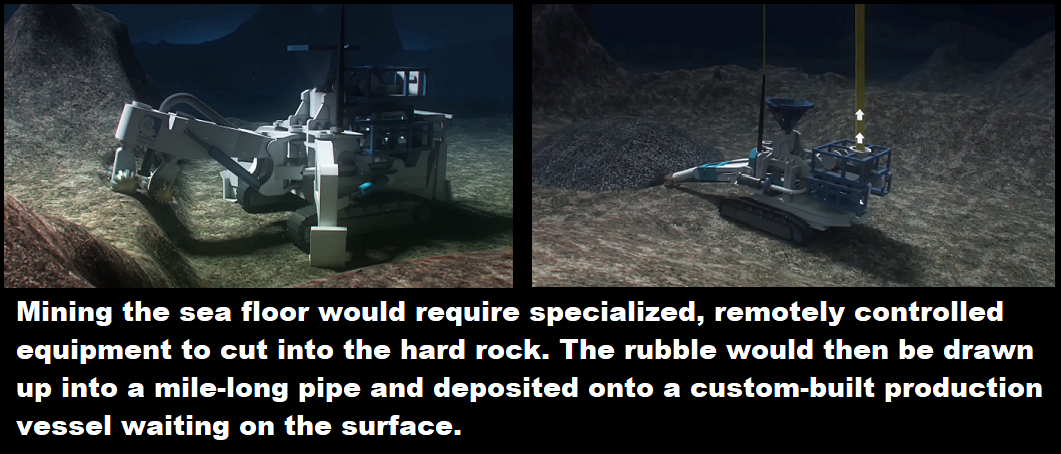 Controversy Brewing
The experiment is not without its detractors, however. The same natural hot springs that formed those vast mineral deposits on the seafloor also support marine life. Which is why Nautilus' plans have some environmentalists worried.
Cindy Van Dover, a marine biologist at Duke University, is one of them. She's particularly concerned about the effect of seabed mining on marine snails.
"To a biologist, they're beautiful," she says. "They have symbiotic bacteria that live inside their gills, and those bacteria supply the food energy that drives the community of animals that lives there."
–Article continues below–

Dover believes that it's possible the marine life could recolonize in about a year, but that may be too optimistic. The company intends to leave some parts of the area undisturbed, so the marine animals can potentially recolonize the site after the 30-month mining period has ended.
"I would rather see the deep sea stay unimpacted by human activities," Dover says. "But that's not a very rational view."
Other Voices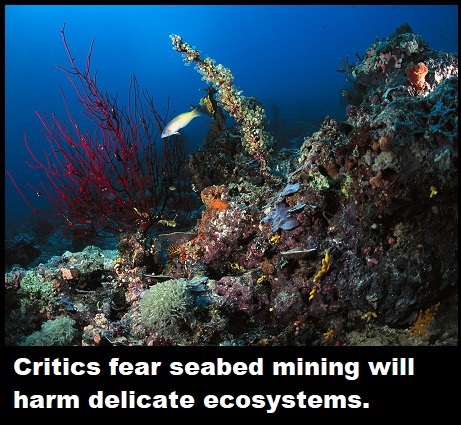 But the reaction of some scientists is much more pointed. Take, for instance, George Woodwell, founder of the Woods Hole Research Center in Woods Hole, Mass. He argues it's time to stop degrading the Earth to sustain our consumptive lifestyles.
"I don't have any sympathy for the idea that we should be mining the seafloor in this late stage in the development of our industrial society. We've got to be more mature than that," Woodwell says.
Samantha Smith, vice president for corporate responsibility at Nautilus, disagrees. She believes mining on land is much more detrimental to the environment.
"You've got to dig a big hole in the ground to get to the ore body. And you might even have to remove a mountain and then dig a big hole in the ground," she says.
In addition, seabed mining does not force people off their land to dig mines. Nor does it contaminate rivers and streams, according to Smith.
Obstacles in Their Path
Other critics have said the project's environmental impact assessment is insufficient, as it fails to include a "rigorous risk assessment" or an environmental management plan. In 2012, more than 20,000 Papua New Guinea residents signed a petition calling for the project to be stopped.
I don't have any sympathy for the idea that we should be mining the seafloor in this late stage in the development of our industrial society. — George Woodwell, Founder, Woods Hole Research Center
The seabed mining operation was originally scheduled to begin operation in 2014. But legal challenges and financial issues continue to cause delays. These include a three-year dispute between Nautilus Minerals Inc. and the PNG government.
Pressing Ahead
And yet, despite the controversy, the company is pressing ahead.
According to Nautilus CEO Mike Johnson, seabed mining equipment manufactured in the UK has arrived and submerged trials have been conducted. That equipment has been modified, he said, to do less long-term damage to the seafloor.
In Johnson's view, tapping the ocean floor for precious minerals actually represents a more holistic approach to responsible mining: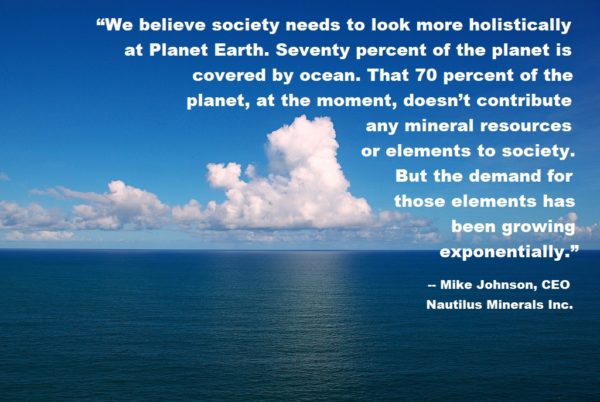 To view the company's promotional video of the seabed mining project, click here.