Mining Has All the Elements of a Good Movie


It's been said that mining contains all the elements of a good movie: Adventure, conflict, financial risk, danger, amazing natural scenery, heroes and villains.
Mining is an industry rich with drama and danger. And Hollywood has always had a bit of a fascination with miners and their way of life.
Over the years, filmmakers have depicted mining in various ways. Hard-scrabble '49ers searching for the mother lode… Wealthy adventurers seeking buried treasure… Irish coal miners fighting oppression.
Let's look at a few of the most well-known mining films, beginning with some of the earliest:
The Treasure of the Sierra Madre (1948)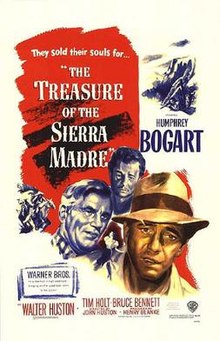 Mining and the moviesThe Treasure of the Sierra Madre was one of the first Hollywood productions to be shot on location outside the United States. The classic adventure film tells the story of two rough-and-tumble vagrants, Fred C. Dobbs (Humphrey Bogart) and Bob Curtin (Tim Holt).
Both down on their luck in Tampico, Mexico, they meet up with a grizzled prospector named "Howard" (Walter Huston). The two decide to join him in search of gold in the wilds of central Mexico.
Through enormous difficulties, they eventually succeed in finding gold. But bandits, the elements, and (most especially) greed threaten to turn their success into disaster.

Winner of several Academy Awards, the film is often regarded as an illustration of the corrupting influence of avarice. (Available to purchase on Amazon.)
King Solomon's Mines (1950)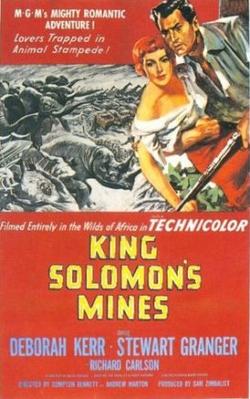 Set in 19th century East Africa, King Solomon's Mines is based on the 1885 novel of the same name.
Mining and the moviesThe story follows adventurer Allan Quartermain (Stewart Granger) as he leads a rescue party into uncharted territory. He's been hired to help Elizabeth Curtis (Deborah Kerr) locate her missing husband, who got lost while searching for the legendary diamond mines.
(Did you know the search for King Solomon's mines continues to this day? But they're not diamond mines — they're copper. And they're believed to be located in southern Israel — not Africa.)
The search leads the party across the African continent and through the terrors of jungle, swamp and desert.
Quartermain has no use for women on an expedition, and he and Elizabeth quarrel regularly. (In typical Hollywood fashion, they eventually fall in love.) But survival becomes their focus when they meet up with cannibalistic tribesmen.

King Solomon's Mines was the top-grossing film of 1950. It was nominated for Best Picture, and won the Academy Award for Best Cinematography. (Available to purchase on Amazon.)
Paint Your Wagon (1969)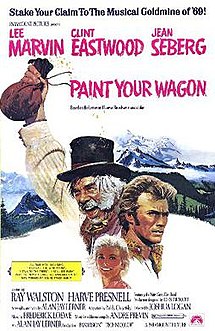 Paint Your Wagon is a musical western, set in a mining camp during the California Gold Rush and based around the lives of the miners who live there.
Ben Rumson (Lee Marvin) happens upon a wrecked wagon containing a dead man and his surviving brother, known only as "Pardner" (Clint Eastwood). While burying Pardner's brother, they discover gold dust and stake a claim.
Soon a mining camp dubbed "No Name City" emerges, rife with lonely men starved for female companionship. When a polygamist Mormon arrives looking to sell off a wife (Jean Seberg), a bidding war commences.
The prospectors eventually share a wife, hijack a stage, kidnap six prostitutes, and turn their mining camp into a boomtown.

Although Paint Your Wagon was popular with audiences (grossing well over $31 million), it was largely panned by critics. (Available to rent or purchase through Amazon.)
The Molly Maguires (1970)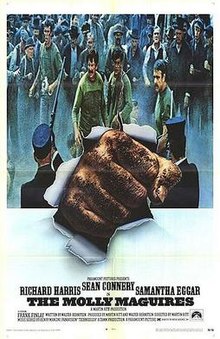 This social drama, set in 1876 Pennsylvania, tells the story of a secret group of Irish immigrant miners, known as the Molly Maguires.
Inspired by a true story, the film depicts the intimidation and violence employed by the group against the exploitive practices of the mine owners. Jack Kehoe (Sean Connery) is the Mollies' leader who uses sabotage and murder in his will to achieve social justice.
Richard Harris portrays the real-life Pinkerton detective James McParland (also an Irish immigrant), who infiltrated the group in order to expose them. Throughout the film, McParland's allegiances are tested. Will he side with the Mollies in the end, or stick with his mission and bring them down?

The Molly Maguires was considered an expensive flop when it was released in 1970. Over the years, it has gained more respect and become somewhat of a cult classic among mining movies. (Available to rent or purchase through Amazon.)
North Country (2005)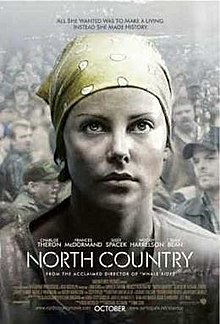 This semi-biographical film features Charlize Theron as Josey Aimes, a single mother who returns to her hometown in Northern Minnesota. At the prompting of an old acquaintance (portrayed by Frances McDormand), Josey gets a job at the local iron mine.
Mining and the moviesShe and other female miners must endure continual sexual harassment by some male coworkers and further abuse by resentful townspeople. When her concerns are not addressed by the mine's owner (who even pressures her to resign), Josey files a sexual harassment case against the Eveleth Taconite Company.
North Country was inspired by the 1988 landmark case of Jenson v. Eveleth Taconite Company, the first sexual harrassment class action tried in US federal court.

Both Charlize Theron and Frances McDormand were nominated for Academy Awards for their roles in this film. (Available to purchase on Amazon.)
The 33
(2015)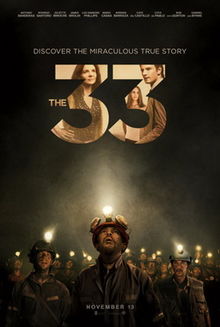 This survival drama is based on the real events during a 2010 mining disaster, in which a group of 33 miners were trapped inside the San José Mine in Chile for more than two months.
Mining and the moviesWith more than 2,000 feet of rock in their way, members of a rescue team work tirelessly for 69 days to save the seemingly doomed crew.
Meanwhile, beneath the rubble, the miners begin an epic quest for survival. Mario Sepúlveda (Antonio Banderas) becomes their leader, dividing the food rations and controlling the outbursts of violence and despair. With family, friends and the rest of the world watching, rescue efforts become a race against time and a true test of the human spirit.

The 33 was released across Latin America several months before its U.S. release in November 2015. The film's premiere in Santiago was attended by not only most of the leading cast, but also several of the actual miners, Chilean President Sebastián Piñera, and Laurence Golborne, Chilean Minister of Mining at the time of the incident. (Available to purchase on Amazon.)
A Final Note
While some of these films recall a dark period in the history of mining, their stories nevertheless played an important in the development of a stronger, safer and more environmentally sound industry. And for that reason, according to Mining Global magazine, "they should be celebrated."
Sources:
Motion Picture Association of America