Plans for High-Speed Rail on Both Coasts
(This is the second of a two-part series about high-speed trains.)
Upon your arrival at the Amtrak station, you check the time on your smartphone and do a double take.

Is it possible you just traveled the 215 miles from New York to Boston in an hour and a half?! That's less than half the time it used to take!
Amtrak officials are banking on this scenario becoming a reality by 2021. Thanks to Avelia Liberty, a model of high-speed passenger train chosen to replace the existing Acela Express on the popular Northeast Corridor train route between Boston and Washington DC via New York.

Big Plans
With a maximum possible speed of 220 mph, and the ability to tilt up to seven degrees on curves, the Avelia Liberty is unlike any train that's ever operated on U.S. soil.
The plan is for Amtrak to acquire a total of 28 trainsets from French train producer Alstom. This will allow for increased frequency on their busiest corridor — including service from New York and Washington at half-hour intervals.
And the Avelia Liberty can accommodate 35% more passengers than the current Acela Express.
If Amtrak can make it happen, the new train may be just what the U.S. needs to jump-start a national high-speed rail system. But why has the U.S. lagged behind other countries in this regard?
After all, the high-speed systems in Europe and Asia now serve virtually all of the densely populated areas on these continents.
Why has the U.S. been so slow to catch on?

A recent Forbes article offered several compelling explanations. Here are a few of the reasons why the prospect of national high-speed rail may be less attractive in this country than it is in Europe and East Asia:
Difference in Population Density
Even some of our most densely populated cities are essentially comprised of "suburban sprawl." Compare this with the concentrated type of urban living common in Europe and much of Asia. (See population density map below.)
From a practical standpoint, where would you build the train station?
Also, most U.S. cities don't have convenient metro systems in place. So commuters would still need a car to get around after they arrive at their destination by train.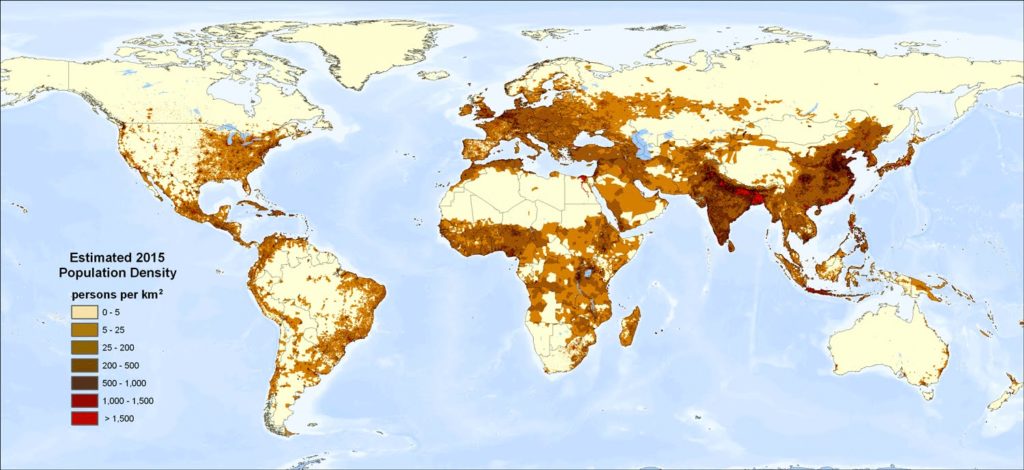 Americans Love Their Cars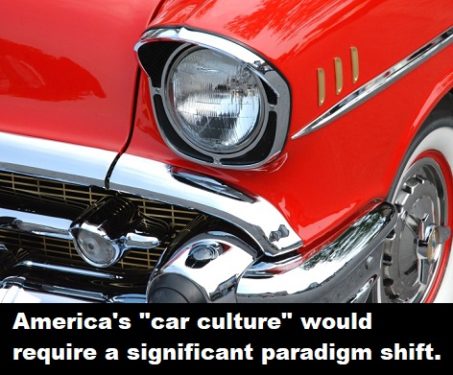 We've created a "car culture" here in the U.S. Our car ownership rates are higher than just about anywhere else on the planet. We like the idea of spreading out into the wide open spaces, and cars allow us to do that. For a long time, auto production formed the economic backbone of this country.
In addition, we've invested hundreds of billions of dollars into our national highway system… which contributes significantly to suburban sprawl… which makes us more dependent on cars… which requires more investment in roads…
Implementing a national high-speed rail system will require a major paradigm shift.
Strong Property Rights
Securing land for high-speed rail development is exceedingly expensive, due to the strong property rights in this country. Most of our current railroads were built long ago, when land was cheap to secure. Compare this to China, where land is still largely controlled by the State.
Network Geared Toward Freight
The U.S. rail system today is primarily used for long-haul shipping of commercial freight, such as crude oil, coal and timber. And it's a highly efficient system, moving tons of goods long distances on a single gallon of diesel.
But these trains are far too slow for passenger traffic. So it appears we can either have an efficient freight railway network or we can have a strong passenger traffic network, but we can't have both. (That is, unless we build a completely separate network for passenger trains.) This is one reason why Europe's commercial freight service is far less efficient than ours.
–Article Continues Below–

Hope Springs Eternal
And yet, despite these rather dismal economics, many Americans are still optimistic that a nationwide high-speed rail system is possible in this country.
Perhaps the strongest advocate is the U.S. High Speed Rail Association (USHSR). They envision a vast network of fast trains, connecting all of our metro areas, as the country's primary mode of national transportation. Of course, to make it effective this national network would be seamlessly integrated with local rail, bus and bicycle networks within each city. Train stations would be located in dense, walkable communities.
In a recent Wall Street Journal article, USHSR President Andy Kunz, explained how the organization has laid out a vision map for a national high-speed rail system. The map indicates how a network of trains, spanning 17,000 miles, could be built in phases and completed by 2030.
According to Business Insider, here's how that high-speed rail network might look:
Who Will Pay For It?
Of course, with such an elaborate system, there is the question of funding. Kunz believes the envisioned high-speed rail system should be funded by government monies diverted from the aviation and interstate highway systems.
But critics, such as Baruch Feigenbaum of the Reason Foundation (a libertarian think tank) think otherwise. According to Feigenbaum, this country already has three other modes of transportation: aviation, intercity bus and passenger vehicles. "I do not see the wisdom in subsidizing a fourth mode when the other three are largely (although not totally) unsubsidized," he said. He would prefer that the U.S. rail system be operated by the private sector or as a public-private partnership.
Moving Forward
In addition to the Northeast Corridor, there are currently three other areas of this country where plans for high-speed rail are moving forward: Los Angeles-San Francisco, Dallas-Houston, and Miami-Orlando.
The California system is currently under construction, with its first segment scheduled for completion by 2025. Construction on the Miami-Orlando high-speed system began in 2014. And the Dallas-Houston system is scheduled to begin construction later this year.
These last two projects are primarily private ventures. The California project, on the other hand, is owned and managed by the state of California through the California High-Speed Rail Authority. Once it is completed, the system will be operated by the American subsidiary of German railway company Deutsche Bahn.
Sources:
U.S. High Speed Rail Association