McShane Welding and Metal Products is proud to have established a partnership with BoxLock. BoxLock, a supply chain access control company based out of Atlanta, Georgia provides specimen logistics solutions to clinical laboratories. BoxLock offers smart technology padlocks that can be utilized to secure deliveries. The company was started in 2017 by Brad Ruffkess with an original focus on small parcel residential solutions. Initially, executives from supply chain companies began to reach out to BoxLock and would state that they had a problem that they were facing. Leaders at supply chain companies felt that BoxLock had the right technology to be able to help them to solve their supply chain issues. More recently, BoxLock has expanded into other industries including aviation and construction.
BoxLock manufactures smart access-controlled technology devices. They have a platform with software that allows BoxLock's devices to be managed which includes different API's that integrate with different 3rd party systems. These platforms include route management, ERP systems, and lab management systems. BoxLock's technology works best when individuals scan a specimen or a lab pack and then uses one of BoxLock's devices. The device will then connect and open the box. It will give that person access to be able to put that specimen in. BoxLock will ask for a pick-up request with their private fleet, their independent courier, or one of the carriers which will then depend on how operations works for them. The couriers are then notified that there is a specimen that needs to be picked up and where it needs to be picked up at.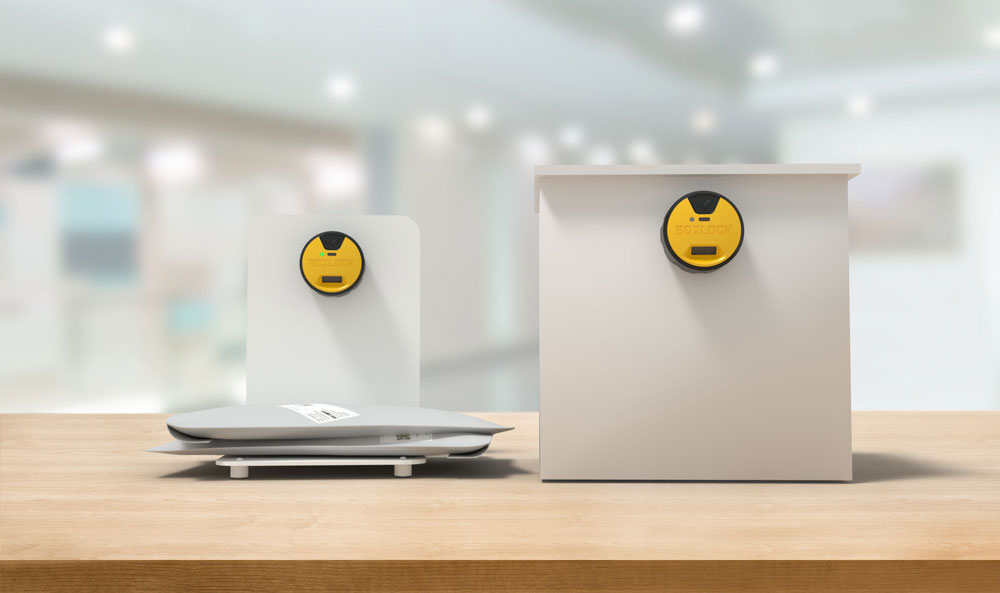 BoxLock has also partnered up with environmental companies that manufacture environmental sensors. These sensors can be stored in one of our McShane Welding and Metal Products laboratory lockers but, also can be used with high-value specimens. There is a disposable sensor that can go inside the specimens, BoxLock then reads the values of those specimens, like the environment condition of the box.
When a courier carrier arrives, they have an employee ID in their pickup request, they will then receive a QR code and scan it. They then can access the box which then reports as to what specimens were put in, what the hold time was, how long they were in the box, and when the specimen or specimens were picked up. This helps laboratories to be able to meet their CLIA certification which then gives them better data about the quality of their specimens.
BoxLock helps clinical laboratories by making sure that clinicians don't have to spend time tracking down specimens or figuring out if someone needs to go pick up a specimen. This gives doctors and clinics more time to devote to their responsibilities and duties of their job. BoxLock allows labs to deliver high-quality specimens because more data is being given to them regarding the quality of their specimens. With BoxLock's assistance, it is believed that this helps labs drive in revenue because doctors now have more trust when it comes to receiving high-quality specimens. This then means that doctors will be likely to continue to order from these labs.
BoxLock believes that their product revolutionizes the clinical laboratory industry because of the science behind their product as well as the processing of the results of specimens. This process is a vital resource for logistics or contracting logistic networks and gets them into laboratories to be processed. When BoxLock reaches out to labs they have found that there is unknown information about what has occurred between the time period between when a specimen was drawn and was collected. BoxLock is then able to come in and provide clinical laboratories with that necessary data. This data can give them a better understanding as to what is happening and more detailed information regarding a specific specimen and the course that it has taken to get to the laboratory.
Here at McShane Welding and Metal Products, we value our partnership with BoxLock because like us, BoxLock is providing solutions for clinical laboratories. We both understand that couriers carry the specimens that can change someone's life in their hands. If we can make a small impact on someone's life then, we've done our jobs right.
If you are interested in learning more about BoxLock's specimen logistics devices click the link below:
BoxLock Specimen Logistics Solutions — BoxLock (getboxlock.com)