Kartel Industries was a manufacturing business in the 1960's and 70's that specialized in the manufacturing of steel milk boxes for the home delivery milk industry. Unfortunately, as convenience stores were starting to become more and more popular, the home delivery of milk products was starting to lose demand. McShane Welding and Metal Products saw an opportunity, and decided to acquire Kartel Industries with the hope of diversifying this product line. In 1980, a laboratory in California called National Health Labs began buying McShane Welding and Metal Products milkboxes to use as their laboratory courier lockboxes. National Health Labs began purchasing the milk boxes because they began to see that it was no longer required to go to the hospital to get blood work done. Samples could be drawn offsite and could then be taken into the laboratories for testing purposes. Results of these tests could then be given within a 24-hour period. The first year that the laboratory courier lock boxes were available, McShane Welding and Metal Products sold over 2,000 of these lock boxes. Currently our laboratory lock boxes are sold all across the country with an average of 40,000 models being sold on a yearly basis.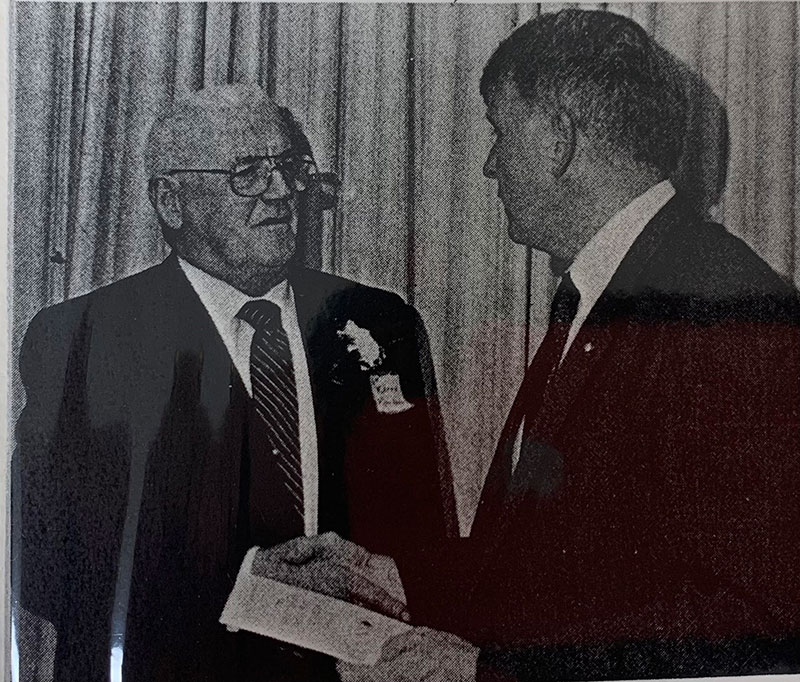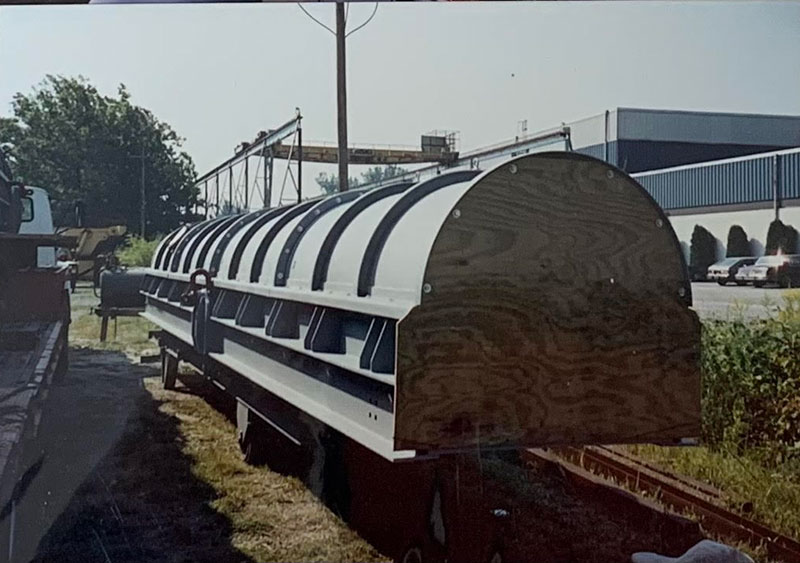 William's son, Jim McShane, was taking business courses throughout high school. After high school Jim attended Gannon University with an independent study in accounting. After a year at Gannon, Jim decided to take a semester off to join his father's business and work alongside his dad. Jim started off his career at McShane Welding and Metal Products sweeping floors and eventually learned how to use the machines on the shop floor. Five years later Jim wanted to begin to learn more about how the business was run, so he began to work in the office and learned how to do the day to day clerical work. Jim advanced rather quickly and in a few years he began running the shop floor for his dad. In 1993, Jim decided to purchase his father's business from him. At the time, McShane Welding and Metal Products had two locations and it was becoming taxing and difficult for Jim to juggle going to the two locations. In 1993, along with buying his dad's company he decided that he wanted to consolidate and only have one location. The decision was made to re-locate to 12 Port Access Road in Erie, which is still used today for all of our Operations and Fabrication work. Jim's father continued to work for the company until his passing in 1997.
In 2001, McShane Welding and Metal Products established a partnership with Rockesolid. Rockesolid is a company based out of Stafford, Virginia that sells military racks to our Armed Forces. Rick Scrivens, a childhood friend of Jim McShane had gone into the Marine Corps out of high school and still had an interest in the Corp after his retirement. Once he left the military, Rick went on to work for Zodiac Boats and sold specialized rubber boats to the marines. Both he and his wife Jackie had worked for Zodiac. Rick moved his way up to vice president of Zodiac America but eventually decided that he had wanted to start his own sales representative company called Rockesolid. Jim and Rick had reunited at his stepmother's funeral, 20 years after they had last seen each other. One day Rick called Jim and told him about his company and the idea of manufacturing military racks. Rick and his wife Jackie left Zodiac and worked for Evanroot through their company Rockesolid. Evanroot had developed a motor for our government. They didn't really want to run it on gasoline because of the cost associated with the gasoline. Instead, they wanted to run it on J fuel which is kerosene based not gasoline based. Evanroot had developed a fuel injected engine that had computer modifications on it that could run on the kerosene but, it was a heavy engine. They found that two hundred- and seventy-pound engines was more problematic than one hundred and fifty pound engines. So, Rick developed an outboard engine maintenance rack (OEMR). It came with accessories, and also the capability to store pods. Unfortunately, the pods weren't fitting into the racks. Jim then suggested to Rick that he should let McShane Welding and Metal Products manufacture his racks for him, which Rick agreed to. Rick saw the improvements that could be made by McShane and a partnership was formed. To this day, McShane Welding and Metal Products continues to manufacture military racks for our Armed Forces. The Navy Seals are our largest customers for these military racks which we take great pride in manufacturing.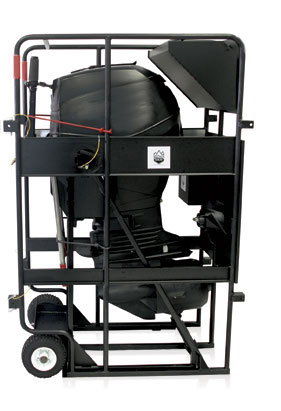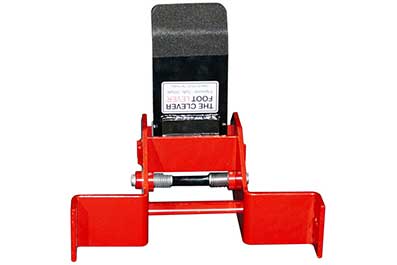 The idea of making the Clever Lever came about when the military racks were being developed. The military racks weighed up to 200 pounds and the motor in it weighed another 270 pounds. The combined weight was about 470 pounds. Rick, Jackie, and Jim found that for a small statured individual, this would be very difficult trying to tilt the military rack back that weighed about 470 pounds. Jim asked one of his welders on the shop floor to assist him and the two of them were able to come up with the concept of the Clever Lever. McShane Welding and Metal Products attached a spring lever to a Magliner Hand Truck which made it easier for a small statured person to be able to tilt the military rack. The Clever Lever has been proven to help prevent injuries from occurring to your lower back, while improving labor efficiency.
A couple of years ago a recycling company in the Pacific Northwest, approached McShane Welding and Metal Products about creating boxes for recycling purposes. This gave McShane Welding and Metal Products the opportunity to work with a new industry. The recycling industry has found that there are communities that have failed at providing the proper residential recycling resources. Materials can't be sorted cost effectively as many of the items that are recycled today end up going into a landfill. This recycling company would offer a subscription collection service in which McShane Welding and Metal Products boxes are used for the collection of batteries and electronics to be recycled. Residents would be able put their recyclables into one of our manufactured bins in front of their homes or on their front porches. Designated couriers would then come to pick up the items that they have collected into our bins. McShane Welding and Metal Products is very proud to be part of an industry that is helping to preserve our land and to build a better future.
In 2020 Jim decided that it was time that he added key personnel to help his business grow and expand. Jim added a Sales and Marketing Director position, and shortly afterwards he added a Director of Operations position. In 2021 McShane Welding and Metal Products added a Sales and Marketing Assistant and a Customer Service Specialist to accommodate our growth. The company is continuing to grow and expand which means that we will continue to add more positions to our team. When the company first started there were 10 employees on payroll. Today we have expanded to 32.
In 2021 the Operations Director at McShane Welding and Metal Products suggested to Jim that it was time to expand into another facility that would accommodate our growth. Jim agreed and in November 2021, McShane Welding and Metal Products moved into their second location at 901 West 12th Street. As the Covid-19 pandemic continued, the demand for our lab lockers increased for testing purposes. McShane Welding needed additional space in order to accommodate and provide the service that our customers have always come to expect. With the new facility, the Port Access Road location could now completely focus on the fabrication and manufacturing side of the business. The West 12th Street location could then concentrate on our milk boxes, medical lockers, lab lockers, and our packing and shipping.
Jim McShane isn't planning on retiring anytime soon. He says that he's still passionate about what he does and wants to continue working for at least the next 10 years. Jim believes in striving for customer service here at McShane Welding and Metal Products. He wants to continue to make sure that customers needs are being met with our innovative solutions. McShane Welding and Metal Products journey is only just beginning. Our story is still being written. We are looking forward to seeing where our future will take us and what new industries and solutions we will come up with. Thank you to everyone who has made this journey possible.