ER Visits Related to Opioid Overdose Still Rising
The opioid epidemic is getting worse.
According to the most recent report issued by the U.S. Centers for Disease Control and Prevention (CDC), emergency room visits associated with opioid overdose increased about 30% across the country, from July 2016 to September 2017.
ER visits related to opioid overdose rose for adults of all ages, across all geographic regions. But the Midwest was hit particularly hard, with an overall increase of 69.7% across the region.
On a state level, Wisconsin had the largest increase: 108.6%. But Pennsylvania was right up there, with an 80.6% jump. To view the entire CDC report, click here.

Hitting Close to Home
The opioid epidemic has hit many Americans close to home. Even U.S. Surgeon General Dr. Jerome Adams publicly acknowledged that his younger brother has struggled with addiction for decades.
And according to the National Institute on Drug Abuse, more than 115 U.S. residents die every day after overdosing on some type of opioid.
Alana Vivolo-Kantor, behavior scientist and first author of the CDC report, stated that "people who have had one overdose are more likely to have another." She emphasized the critical need for "emergency department education and post-overdose protocols, including providing naloxone and linking people to treatment."
The drug naloxone (commonly known as Narcan) is used to reverse opioid overdose. Recent research has found it to be successful in stopping an overdose 93% of the time.
Dr. Caleb Alexander, co-director of Johns Hopkins Center for Drug Safety and Effectiveness, believes that the trends described in the CDC report are consistent with other reports of worsening injuries and deaths.
"In 2016, more people died from drug overdoses than ever before in the United States," Alexander said. "More than 60,000 people died in 2016, and this represented about a 20% increase from 2015." He added that the new CDC report shines a brighter light on ER visits arising from those overdoses.
Three Waves of Epidemic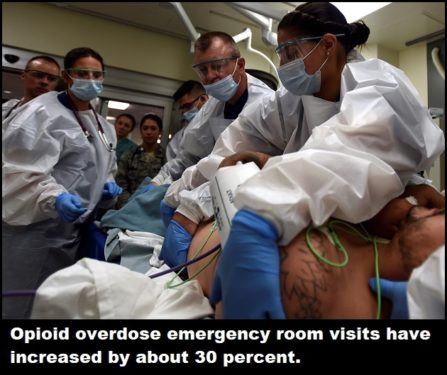 The World Health Organization has stated that the epidemic of opioid-related deaths and overdoses in North America was fueled by increased prescribing and sales. (See related article, "Are Drug Companies Responsible for the Opioid Epidemic?")
Opioid overdoseAccording to the CDC, about 40% of all opioid overdose deaths involve a prescription. Acting Director Dr. Anne Schuchat, describes the U.S. opioid epidemic as coming in three waves:
Overprescribing of opioid medications.
Deadly exposure to cheap and easily accessible heroin.
Even deadlier exposure to oral or injectable fentanyl and other illicitly manufactured opioids, much more potent than heroin.
The country is currently in the grip of the third wave.
"We really think that this [the CDC report] is a wake-up call for all of us — that the opioid epidemic is in all of our communities and that there's more that we need to do," Schuchat said.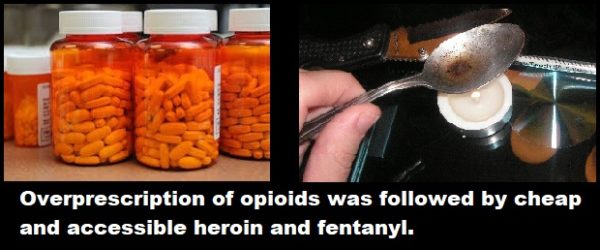 What Can You Do?
In the midst of this fast-moving epidemic, it's easy to feel overwhelmed and ineffective. But there is something you can do right now to help.
Take your prescription meds out of the medicine cabinet and place them somewhere that's accessible only to you. A medication lock box or lockable medical cabinet is ideal for this.
Prevent a tragedy. Secure all your meds with a MMP Medical Lock Box.
Sources:
Centers for Disease Control and Prevention
National Institute on Drug Abuse