Addressing Opioid Crisis Results in Unintended Consequences


In 1998 computer technician Doug Hale had surgery to repair a damaged urinary tract. Six months later, he experienced excruciating, burning pain.
Despite years of treatments, he continued to suffer. Then in 2006, his doctor prescribed strong doses of opioids.
Ten years later, Hale was still on the painkillers, popping so many pills that he regularly ran out. That's when his doctor discontinued his prescription and urged Hale to enter detox.
But detox didn't work for him.
Still in agonizing pain and now also suffering from intense withdrawal, Hale returned to his doctor and pleaded for more opioids. The doctor refused.
The next day, Hale placed the barrel of a small-gauge gun in his mouth and pulled the trigger.
As health officials and policymakers crack down on opioids, some unintended consequences are surfacing.
Let's look at four of the challenges that lawmakers, physicians and patients, are beginning to confront as they address the opioid crisis.
"We're Cutting You Off"
Doctors face intense pressure to cut back on opioid prescriptions, especially for the treatment of chronic pain.
While the Department of Health and Human Services (HHS) doesn't track the number of Americans with chronic pain, some health experts estimate it to be as high as 100 million. That's a lot of people taking pain meds.
Unfortunately, many doctors do not gradually and appropriately transitioning patients off opioids. When the weaning process is done badly, it can push people toward street drugs like heroin. Or worse, compel them to commit suicide (like Doug Hale).
"Some people will be tapered too quickly or in a way that is intolerable to them," said Elinore McCance-Katz, the HHS assistant secretary for mental health and substance use.
"It's not just people who are on chronic opioids that have difficulty tapering," she added. Even patients taking the drugs for only a few weeks may need to be gradually weaned to avoid withdrawal symptoms that can include muscle aches, vomiting, diarrhea, anxiety and insomnia.
Weaning patients off opioids should be a "cooperative process" between patient and physician — not an ultimatum or abandonment, according to Dr. Sally Satel, a psychiatrist at Yale University School of Medicine. "I've seen patients where doctors just say 'That's it, I'm done. I'm not going to lose my license over you and good luck,' and that's unconscionable," she said.
Andrew Kolodny, the co-director of opioid policy research at Brandeis University, said patients must have ample support when being weaned from opioids. "It's not as easy as just telling a primary care doctor to lower the dose by X amount," he said. Patients may also need social workers or psychologists to address anxiety, as well as alternative pain treatments.
Neglecting Other Drug Crises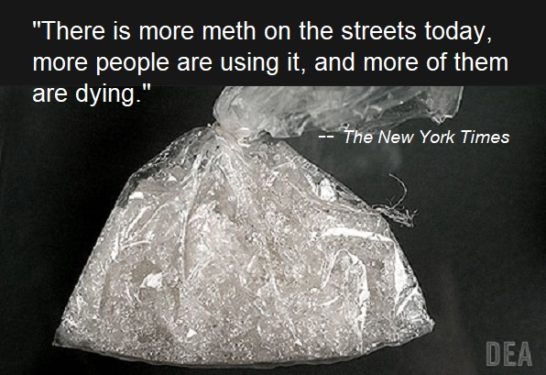 The use of cocaine and crystal meth is exploding across the country, but this tends to get lost amid our focus on the opioid crisis. The New York Times recently reported,"There is more meth on the streets today, more people are using it, and more of them are dying."
Rahul Gupta is the Public Health Commissioner for the state of West Virginia—a state particularly hard hit by the opioid crisis. "We treat drug epidemics like 'whack a mole,'" Gupta said. "We get one under control, another pops up."
Between 2015 and 2016, deaths involving cocaine increased more than 50% according to the CDC. And overdose deaths from methamphetamine swelled by 30% between 2014 and 2015.
"We are seeing meth come back, we are seeing cocaine on the horizon," said Jonathan Thompson, executive director of the National Sheriffs' Association. "This is now a cyclical problem. So how do we prepare for it? Responding to opioids is different than responding to cocaine, which is different than responding to methamphetamine."
In the last few years, federal funding has focused specifically on the opioid crisis, leaving other substance abuse programs lacking. President Trump's 2019 budget proposal calls for $13 billion to fight the opioid epidemic. But it proposes cuts to other substance abuse treatment programs.
In 2016 Congress authorized $1 billion in opioid funding over a two-year period. But some lawmakers want to give states more flexibility to spend that money. For instance, Sen. Tammy Baldwin (D-Wis.) is particularly concerned about a spike in crystal meth deaths that her state has recently experienced. That rise has been exponential since 2011, causing Wisconsin Attorney General Brad Schimel to appoint a special prosecutor focused solely on meth cases.
Removing the Painkillers, but Not the Pain
While cracking down on painkillers, policymakers and health officials have failed to improve accessibility to non-drug alternatives, such as physical therapy, biofeedback and cognitive behavioral therapy. (See related article, "Managing Pain Without Opiods.")
Bob Twillman is the executive director of the Academy of Integrative Pain Management. He believes Congress has effectively promoted non-opioid alternatives for the Defense Department and VA, but beyond that "it's pretty much just been lip service" when it comes to the private sector.
- YouTube
"There actually is a fairly large body of evidence for many of these non-pharmacological treatments," Twillman said. "The unfortunate thing is, very little of it is randomized controlled trials and very little of it has long-term follow-up. It's not the highest quality of evidence. But, as I frequently point out to them, they cover long-term opioid therapy and they don't have any evidence for that either."
Even when insurance does cover alternative pain treatments, those treatments still tend to be more costly for patients. And they typically require more time than popping a pill — a challenge for hourly workers with no paid-time-off benefits.
Care for the Dying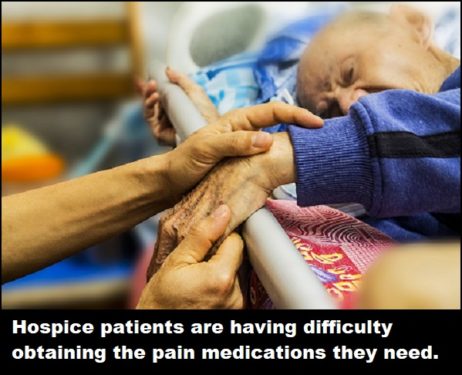 There's no doubt that opioids can be a godsend for patients nearing the end of life, or suffering metastatic cancer. In fact, prescribing guidelines and restrictions generally do not apply to these patients.
But hospice and palliative care physicians report that their patients are nevertheless having a very difficult time obtaining the pain medications they need.
Sean Morrison, chairman of the geriatrics and palliative medicine department at Mount Sinai Hospital, explains the dilemma:
"Almost every patient I have prescribed for recently has either a) run into pharmacies that no longer carry common opioids; b) been unable to receive a full supply; or c) worst of all, had their mail order pharmacy refuse to fill."
Joe Rotella, the chief medical officer for the American Academy of Hospice and Palliative Medicine, agrees. "Even with exemptions for hospice care, prescription limits are still having an impact," he said.
"Patients have a tougher time getting these medications, and it's a lot more hassle for providers."
Balancing Act
As lawmakers continue to grapple with the opioid crisis, it's clear that there are no simple answers. Fatal overdoses continue to soar. The challenge will be in achieving a balance between the crackdown on opioid abuse and providing adequate care to people in pain.
Sources: