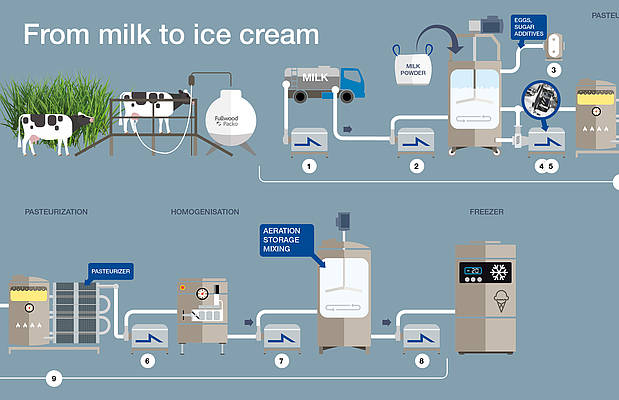 The Process
The ingredients to make ice cream include cream, condensed milk, butterfat, sugar, flavorings, and federally approved additives. Eggs are usually added in as flavoring. Additives are then used to react as emulsifiers and stabilizers. This stops heat shock and the shaping of ice crystals. Additives that are usually added are guar gum, extracted from the guar bush, and carrageenan, which comes from sea kelp. As you can see it takes quite a process to make ice cream. Cow milk from local dairy farms is brought to ice cream plants in refrigerated tanker trucks. The milk is then pumped from 5,000-gallon storage silos, kept at 36 degrees Fahrenheit. Milk is then brought in by pipes that pre-measure their specific amounts. The milk can be pre-measured up to 1,000 gallons and put into stainless steel blenders. Eggs, sugar, and other additives are added and are then blended with the milk for about six to eight minutes. The blended ingredients are then taken into a pasteurization machine which goes through thin stainless-steel plates. Hot water will then go through each side of the plates at a temperature of 180 degrees Fahrenheit. This heat treatment helps to kill the bacteria. Air pressure at 2,000 pounds per square inch releases a hot mix that then goes through a small opening in the homogenizer. Through this process, which then stops the particles from splitting up the mixture. A homogenizer is a high-pressure piston pump that mixes what is then put into the pump cylinder on the down stroke and then put back into the upstroke. The blended ingredients then go back into the pasteurizer where it goes into 34 degrees Fahrenheit water and moves along stainless-steel plates on the opposite side and the mixture cools down to 36 degrees Fahrenheit. It is then pumped into 5,000-gallon tanks and then is set at 36 degrees Fahrenheit. It then must stand for four to eight hours so that the ingredients can get mixed together. After waiting for four to eight hours to get the ingredients blended it is now time to add flavor to the ice cream. To begin, ice cream gets pumped into stainless steel vats. Each of these vats can hold up to 300 gallons of mixture.
Each ice cream flavoring gets pumped into vats and is mixed continuously. The mixture becomes frozen. The ice cream is then put into freezers that can freeze up to 700 gallons per hour. Temperatures in these freezers are kept at a temperature of -40 degrees Fahrenheit. As the ice cream sits then air is deposited into the freezer. Once it leaves the freezer it begins to look like soft-serve ice cream. At this point, pieces of food can be added to the ice cream. The ice cream is then put into a fruit particles feeder. Pieces of food are put into a hopper that gets put in a the top of the feeder. A small hopper that has a star wheel attached sits in the front of the feeder. At the bottom of the machines lies an auger that turns the hoppers so that the pieces of food are then able to go onto the star wheel and is then able to pre-measure the amounts of food. While the mixture goes through the feeder, the star wheel then places pieces of food into the ice cream. The ice cream then goes into a blender where it gets smoothed out. Filing machines then begin to drop preprinted pints or half gallon cardboard cartons into holders. Cartons then premeasure different amounts of ice cream and put directly into the cartons. A machine then puts a lid on each of the cartons and sends the ice cream down a conveyer belt. Cartons go along the conveyor belt and are put under an ink jet that spray paints and puts the expiration date and production code on each of the cartons. Each carton then goes through a bundler which is a heat tunnel that then covers up each cup of the plastic shrink wrapping. Ice cream is then put into storage before shipping or sending to grocery stores. It must get hardened at a temperature of -10 degrees Fahrenheit. A conveyer belt system eventually moves the ice cream carton into a tunnel at -30 degrees Fahrenheit. Ceiling fans then begin to create a wind chill of -60 degrees Fahrenheit. Cartons go back and forth in the tunnel for two to three hours until the mixture has hardened. Cartons are then put into refrigerated warehouses where they are stored until they are shipped to grocery stores.
At McShane Welding and Metal Products, we are proud to play a small role in the ice cream industry.
We help dairy farmers as well as creameries throughout the United States bring their ice cream to residential homes with our milk boxes. All our milk boxes are insulated and are hand welded. We offer our customers the option to have their milk box made with galvanized steel or have their milk box powder coated. McShane Welding and Metal Products also offers a variety of locking mechanisms. We offer several standard sizes, but we can customize a milk box to meet your needs. Logos can be silkscreened onto our milk boxes. Logos are a great way to communicate and market your brand with your consumers or potential customers in an artistic way which demonstrates your company's mission and goals. We want to help you make your customers recognize your company image by promoting your individual brand. If you would like to learn more about our milk boxes, please visit our website by clicking this link https://www.mcshanemetalproducts.com/metal-products/category/branded-porch-boxes or by giving us a call at 1(800) 735-3632.