For Many Elderly, Living Pain-Free Means Addiction

A 66-year-old cancer patient under hospice care was prescribed opioids for pain. That is, until his urine drug screen came back positive for marijuana and cocaine.
Then his opioid therapy was stopped.
Two days later, the patient was found dead due to a self-inflicted gunshot wound. Pain was determined to be a major contributing factor.
The Elderly and Chronic Pain
A 2003 National Institutes of Health study appeared to state the obvious when it reported that "the prevalence of pain increases with each decade of life." Subsequent studies have indicated that adults aged 65 and older are 80% more likely to complain of moderate-to-severe pain than are their younger counterparts.
Chronic pain among the elderly is very real. For decades, physicians' treatment of choice for this pain was opioid therapy. As a result, opioid abuse among the elderly is growing. And that misuse poses unique risks in the geriatric population.
The statistics are alarming:
A nine-fold increase in the number of opioid prescriptions provided to older patients between 1996 and 2010
Thirty-five percent of older patients with chronic pain reported misuse of their opioid prescriptions within the previous 30 days.
Within a 20-year period, the hospitalization rate for geriatric misuse of opioids quintupled in the past 20 years alone.
According to Indianapolis geriatric nurse Lori Joseph, the number of elderly individuals addicted to opioids is underreported. She believes that family members often don't realize that grandma's Oxycodone is actually an addictive substance. As a result, they can fail to recognize the signs of addiction that may be staring them in the face. (See box below.)
The problem is further complicated by the fact that elderly patients often take a number of medications. When drug interactions are combined with the presence of several chronic diseases, and physiological changes common with aging, pain management can be particularly challenging.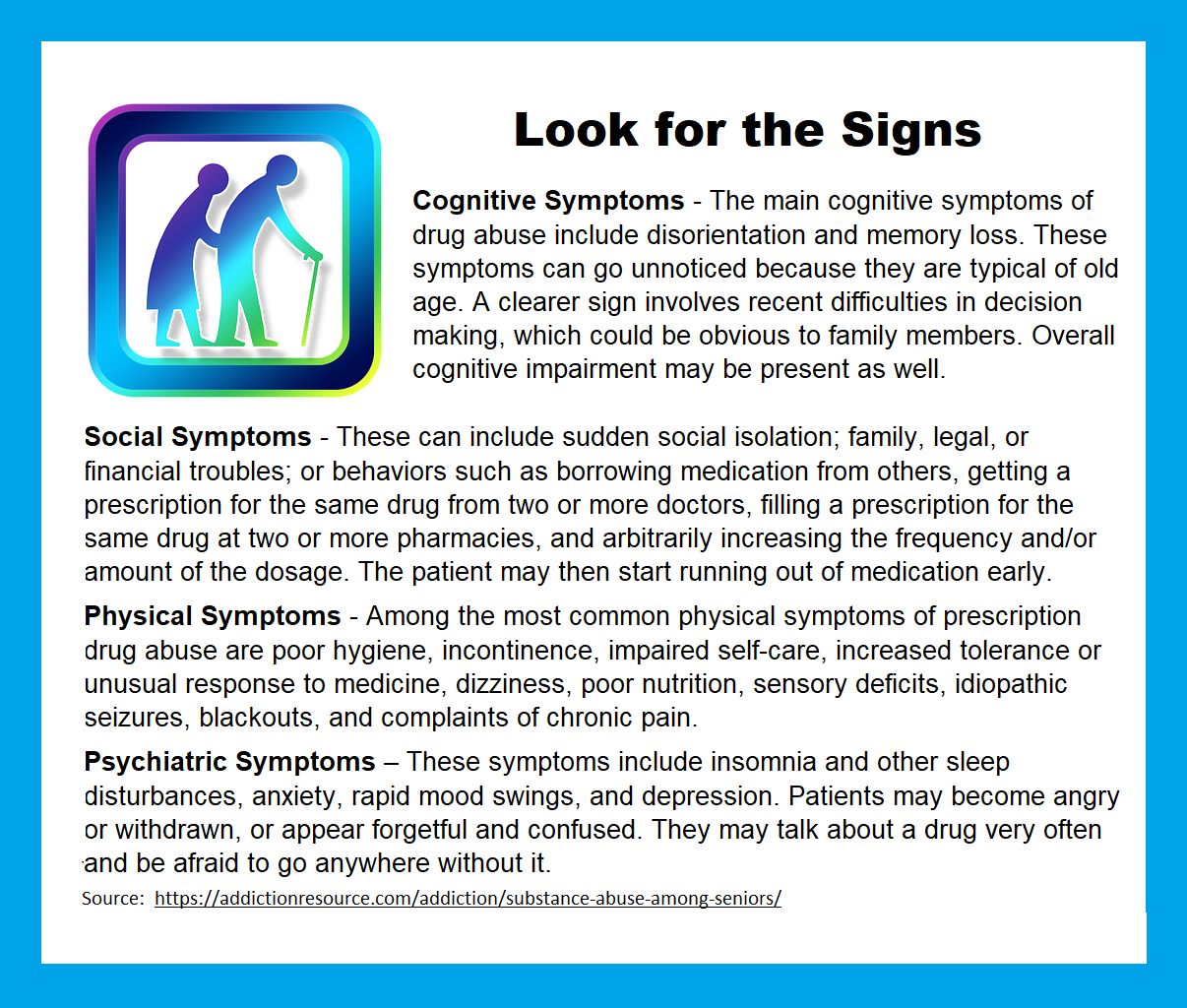 Ethical Dilemma
Health professionals are increasingly faced with a difficult ethical question: Do you allow elderly patients to live pain-free but addicted to opioids? Or try to wean them from addiction and therefore face the pain of withdrawal along with their ongoing health issue?
The following Fox 29 news clip puts a face on the problem:
Shannon Skowronski is a researcher for the U.S. Department of Health and Human Services specializing in geriatric issues. In 2017 she co-authored "The Opioid Public Health Emergency and Older Adults" in. Skowronski believes that some doctors continue to prescribe opioids to elderly patients under the pretense that age makes a person less susceptible to addiction.
But elderly people who are addicted to opiates are twice as likely to die as their younger counterparts. This is partly due to the fact that medications affect the body more strongly as a person ages. If mixed with other drugs needed for anxiety or other mental illnesses, opiate use can result in decreased respiration.
Essentially, they suffocate.
Problem with Withdrawal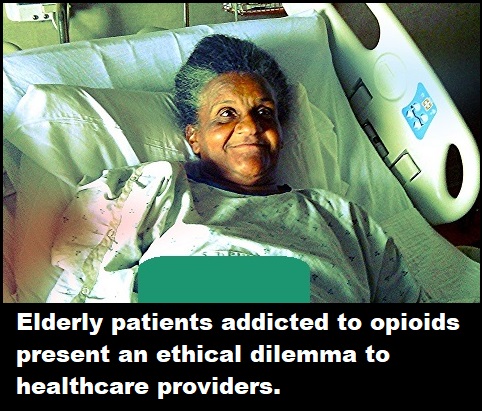 But elderly patients are often too frail to handle withdrawal from the drug. In fact, doing so can kill them. Staying on the drugs can kill them, too.
This leaves them in a Catch-22: If both roads end in pain, then which path is better?
Some medical practitioners, like Charlesine Ford, believe the action of weaning elderly patients off opioids causes more pain than good. In her view, elderly patients often need pain medications to ensure quality end-of-life care. Forcing them into detox is often more painful than simply allowing them to continue using their opiods.
"If your patient can come off, I most certainly would want them to" Ford said. But she cautions that the trauma from withdrawal may well be worse than their initial pain for which the medications were prescribed.
The goal of end-of-life care should be on helping the patient feel their best in the last moments of their lives. If that entails staying on medication they might be addicted to, then "it's too bad, but that is the plight of the patient."
"To me, I look at treatment for that the same way I look at blood pressure medication," Ford said. "You cannot abruptly stop blood pressure medication. It is a treatment, and it is the plight of a patient. Stopping opiate use, for some people, it would be like having their leg amputated and all they're given is Advil."
"I don't want to put someone elderly into a situation like that."
–Article continues below–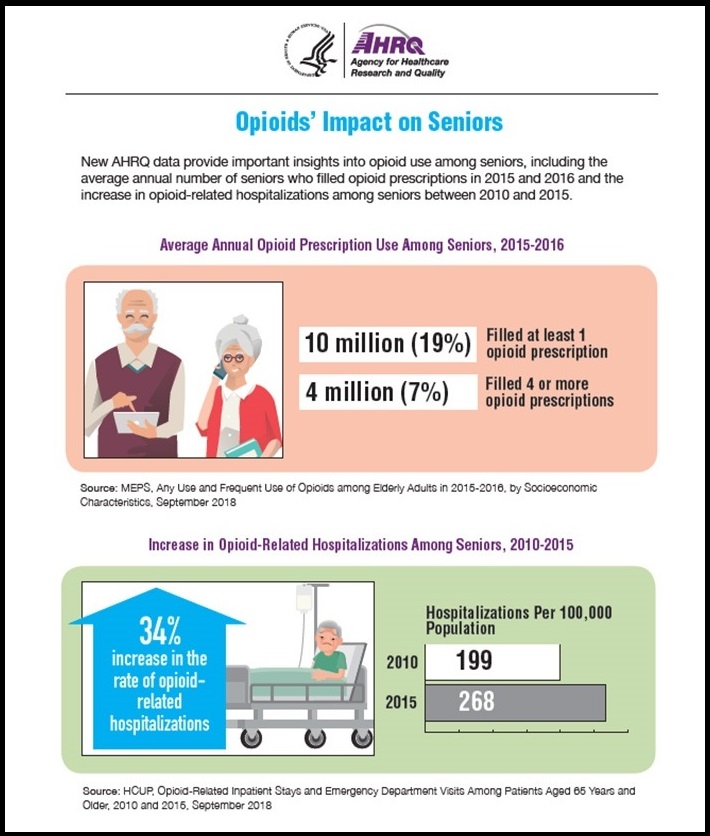 Avoiding Trouble
Ironically, opioids are usually not the most effective treatment for chronic, long-term pain. In fact, there is virtually no evidence to support the long-term use of opioids for the treatment of chronic pain in the elderly. There is, however, extensive proof of possible harm from long-term opioid use in these patients.
Which is why healthcare providers are increasingly seeking non-opioid and/or non-medication alternatives for the treatment of chronic pain in the elderly. (See related article, "Managing Pain Without Opioids.") And they're starting to reserve opioids for acute injuries, post-surgery pain, and end-of-life care.
Need Help?
If you or someone you know is struggling with opioid abuse, the Substance Abuse and Mental Health Services Administration (SAMHSA) hotline is available year-round, 24-hours a day: 1-800-662-HELP (4357). English and Spanish speaking options are available.
You do not need health insurance to call, and an online behavioral treatment services locator can also be found on their website.
Sources: