Shatto Milk Company is a family-owned dairy farm that is located north of Kansas City, Missouri.
The history of Shatto Milk began in the 1800's when Minnie Porter married George Winstead and purchased their Osborn, Missouri farm. George and Minnie gave birth to five children named Frank, William, Jack, Anna Lucille, Mary Alice, and Georgia Francis. Most of the children left the farm when they became adults. However, Mary Alice and Jack continued working at the farm. Georgia married a man named Ivan Cox. They eventually decided to go back to the family farm. Ivan and Georgia's older sister, Mary Alice made a deal with each other. Ivan and Mary Alice began a dairy. They worked together for many years up until the time of Mary Alice's retirement. Ivan began to take care of the farm once Mary Alice left. Then starting in the late 1940's Georgia and Ivan had began starting to have a family. They had three children named Esther, Dinah, and Barbara. Barbara married Leroy Shatto. Ivan decided in the mid- 1980's that it was time to retire from the family business. He gave the family farm to Leroy and Barbara. During the 1990's local dairy farms near the Osbourne, Missouri area were starting to go out of business. By the time the mid 1990's came around the farm wasn't doing as well as it should have been. The family began to wonder what might be in store for them in the future. Then in 2001, Leroy and Barbara Shatto decided on possibly bottling milk from their cows that were on their farm. Then on June 4 th , 2003 Shatto Milk Company made their very first farm delivery. At the time they delivered to about less than 10 grocery stores that were in the Kansas City area. The Shatto's were able to save their farm from going out of business and were able to continue their family legacy. Today, Matt Shatto runs the family farm. In 2015, Shatto Milk Company decided to start providing a home delivery service of their products. In 2020 Matt Shatto eventually decided it was time to expand outside of Kansas City, Missouri. They decided to partner with Volleman's Family Farm in Addison, Texas. The farm is located about 100 miles southwest of Fort Worth, Texas.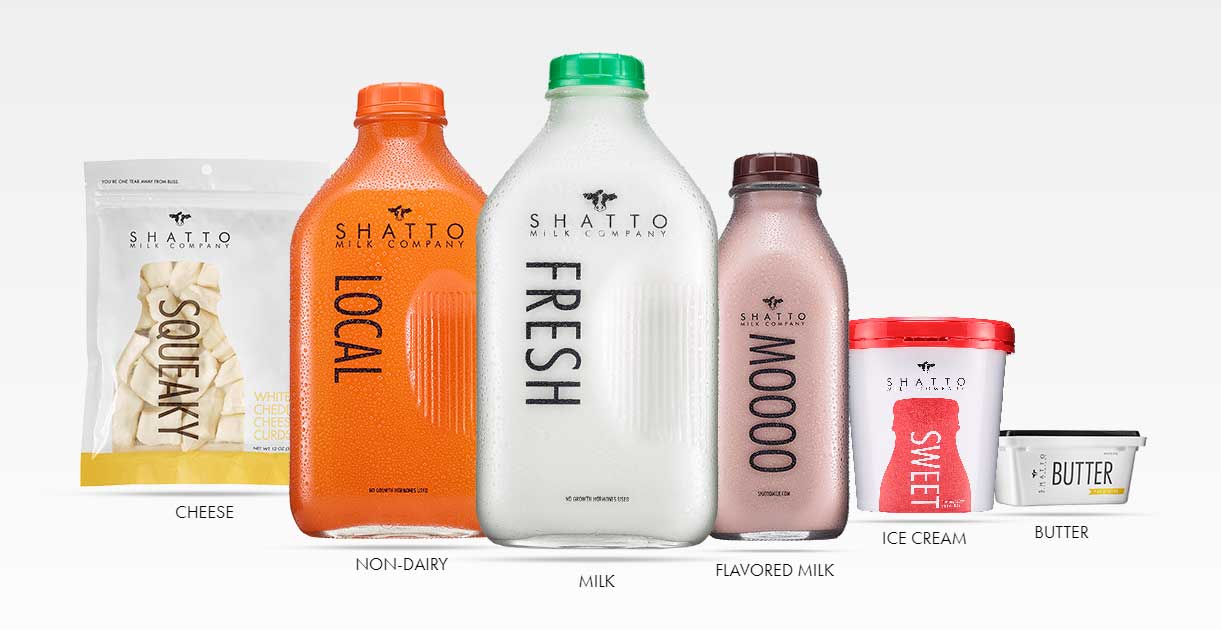 Shatto Milk Company offers a variety of products like
cheese, milk, ice cream, ice cream sandwiches, butter, and milk soap

.

They have traditional milk products as well as different milk flavors including chocolate, strawberry, cookies n' cream, banana, cotton candy, coffee, eggnog, root beer, and pumpkin spice eggnog. Limited released flavors are also offered throughout the year. Ice cream flavors include strawberry, vanilla, chocolate, and caramel sea salt. Shatto Milk has aged fresh cheeses as well as butters. Most of their products have received international recognition. For example, their milk and butter have even been named the top three in the world in numerous competitions.

On a typical day at Shatto Milk Company the cows on the dairy farm get milked every single day, three times a day. Currently, they have over 500 cows on their farm. The milk is then bottled during the week into glass containers. They Shatto Milk Company has a country store and roughly about 150,000 people that come every year and take a tour of their farm. This is an excellent opportunity for Shatto Milk Company to show off their farm and their cows to their customers. Throughout the year, they offer holiday events on their farm so, that families can visit, explore the outdoors, and learn what it's like being on a farm. There is also the transportation side of the business which involves delivering Shatto Milk Company's products to over 150 stores in the Kansas City area, as well as in Texas. The home delivery business is open five days a week to their customers. Milk products are offered as well as 1,200 other products. Thousands of customers receive those deliveries every week just in the Kansas City metro area alone.
Matt Shatto the owner of Shatto Milk Company stated "That our business creates a personalized relationship between the milkman and the customer. Our customers believe that they are a part of something bigger than themselves and that it is a unique type of service that is being provided to them. In exchange, it is also great for us because even if people don't necessarily know about who we are, people have come to recognize us as the company that provides the porch boxes on everyone's porches based on our logo. Also, for the delivery drivers that may be driving in a neighborhood that they are unfamiliar with, they can see one of the porch boxes and say that I'm at the right house since I see one of our porch boxes. The brand awareness that is being gained from the porch boxes is valuable from a marketing perspective. Also, the porch boxes have benefitted our home delivery business as it keeps our products cool and fresh."
When talking about Shatto's relationship with McShane Welding and Metal Products Matt said, "I'm appreciative of the working relationship we have with the McShane Welding and Metal Products team. McShane Welding and Metal Products understands what we do and has a long-standing history of working with other home delivery businesses just like us here at Shatto Milk Company. McShane Welding and Metal Products also continues to learn and ask questions about what is currently going on in the dairy industry and if we are doing anything new. Our open communication with McShane about sourcing boxes has been so important when making sure we are ahead of the game when it comes to the inventory of our porch boxes."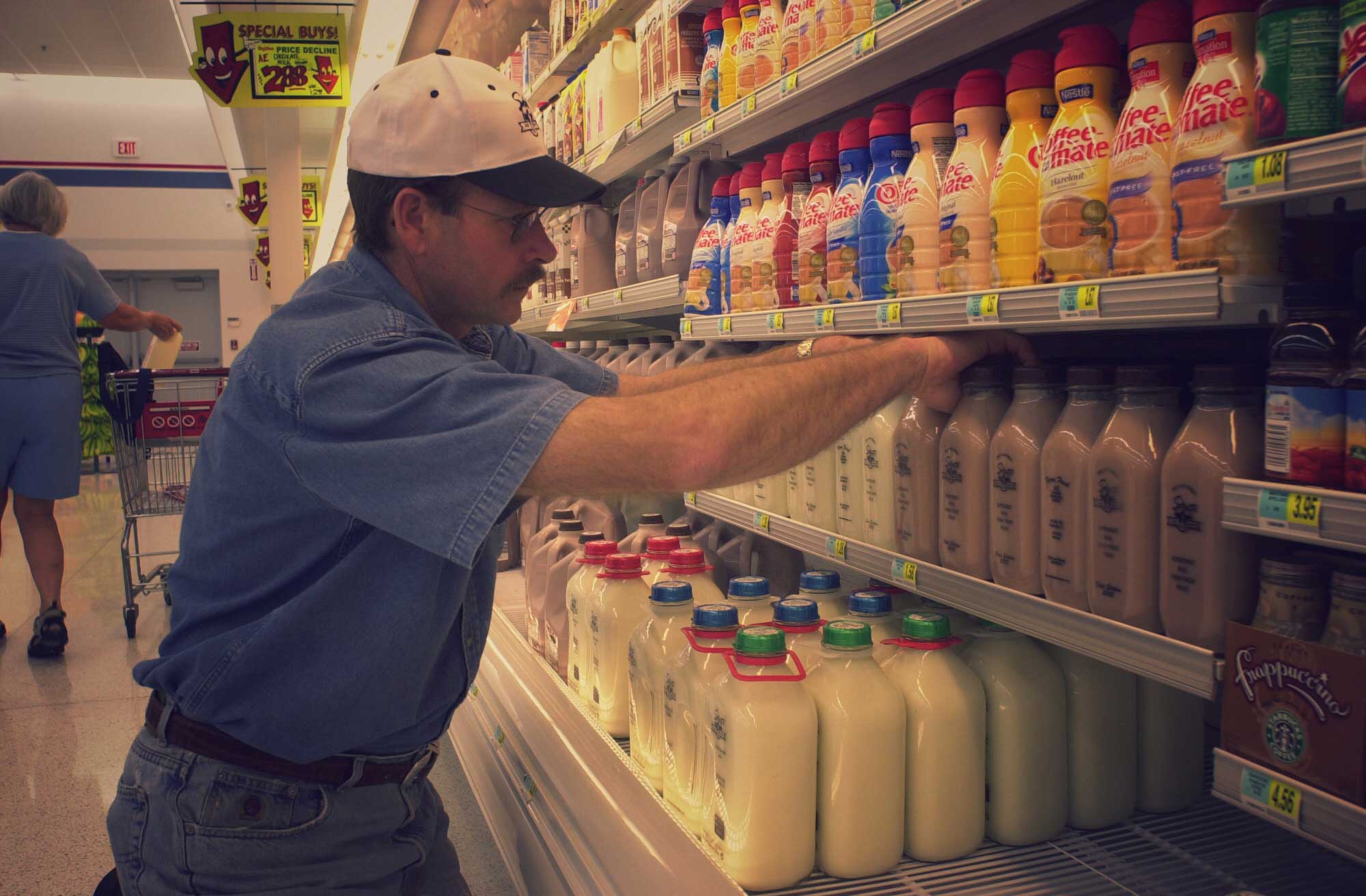 McShane Welding and Metal Products is truly fortunate to have great customers in the dairy industry, like Shatto Milk Company.
We look forward to working and continuing to build our relationship together for many more years to come. Shatto Milk Company has a bright future and we are so thrilled that they chose us to be a part of their journey.