Why Courier Lab Lockboxes are Important
Secure Storage: Courier lab lockboxes provide secure storage for sensitive and valuable items such as medical samples, laboratory equipment, and other research materials. The lockboxes are designed to prevent unauthorized access, tampering, or theft of these items.
Controlled Access: The lockboxes allow only authorized personnel to access the items inside, ensuring that only those who are supposed to handle them can do so. This helps to prevent mishandling, contamination, or loss of materials.
Compliance: Many industries, such as healthcare and research, have regulatory requirements for the handling and storage of sensitive items. Courier lab lockboxes help organizations comply with these regulations by providing a secure storage solution.
Accountability: Courier lab lockboxes provide an auditable trail of who accessed the items and when, which can be important in case of a breach or theft. This also helps organizations keep track of who is responsible for the items and ensures accountability.
Convenience: Courier lab lockboxes provide a convenient solution for the pickup and drop-off of items. Authorized personnel can access the lockbox at any time, which can save time and increase efficiency in the handling of sensitive items.
Overall, courier lab lockboxes are essential for ensuring the security, safety, and regulatory compliance of sensitive materials, while also providing a convenient solution for their handling and storage.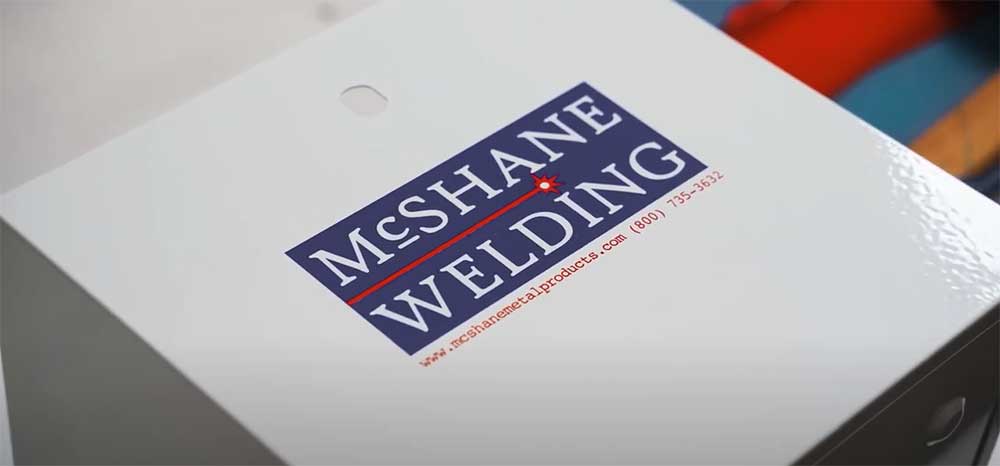 Types of Courier Lab Lockboxes
There are several types of courier lab lockboxes available, each designed to meet specific needs and requirements. Some of the most common types of courier lab lockboxes include:
Wall-Mounted Lockboxes: These lockboxes are mounted on a wall, often in a laboratory or research facility. They provide a secure storage solution for items that need to be accessed regularly.
Portable Lockboxes: Portable lockboxes are designed to be carried by authorized personnel, making them ideal for fieldwork or sample collection outside of a laboratory setting.
Temperature-Controlled Lockboxes: Temperature-controlled lockboxes are designed to maintain a specific temperature range for items that are temperature-sensitive, such as medical samples, vaccines, or blood products.
Drop-Off Lockboxes: Drop-off lockboxes are designed for secure delivery and pick-up of items, often used in healthcare settings for collecting patient specimens or delivering medication.
Smart Lockboxes: Smart lockboxes incorporate digital technology such as biometric sensors, RFID or Bluetooth, and can be remotely controlled. They provide an added layer of security and accountability, making them ideal for high-value or highly sensitive items.
Overall, the type of courier lab lockbox you choose will depend on your specific needs and requirements, such as the type of items being stored, the level of security needed, and the location where the lockbox will be used.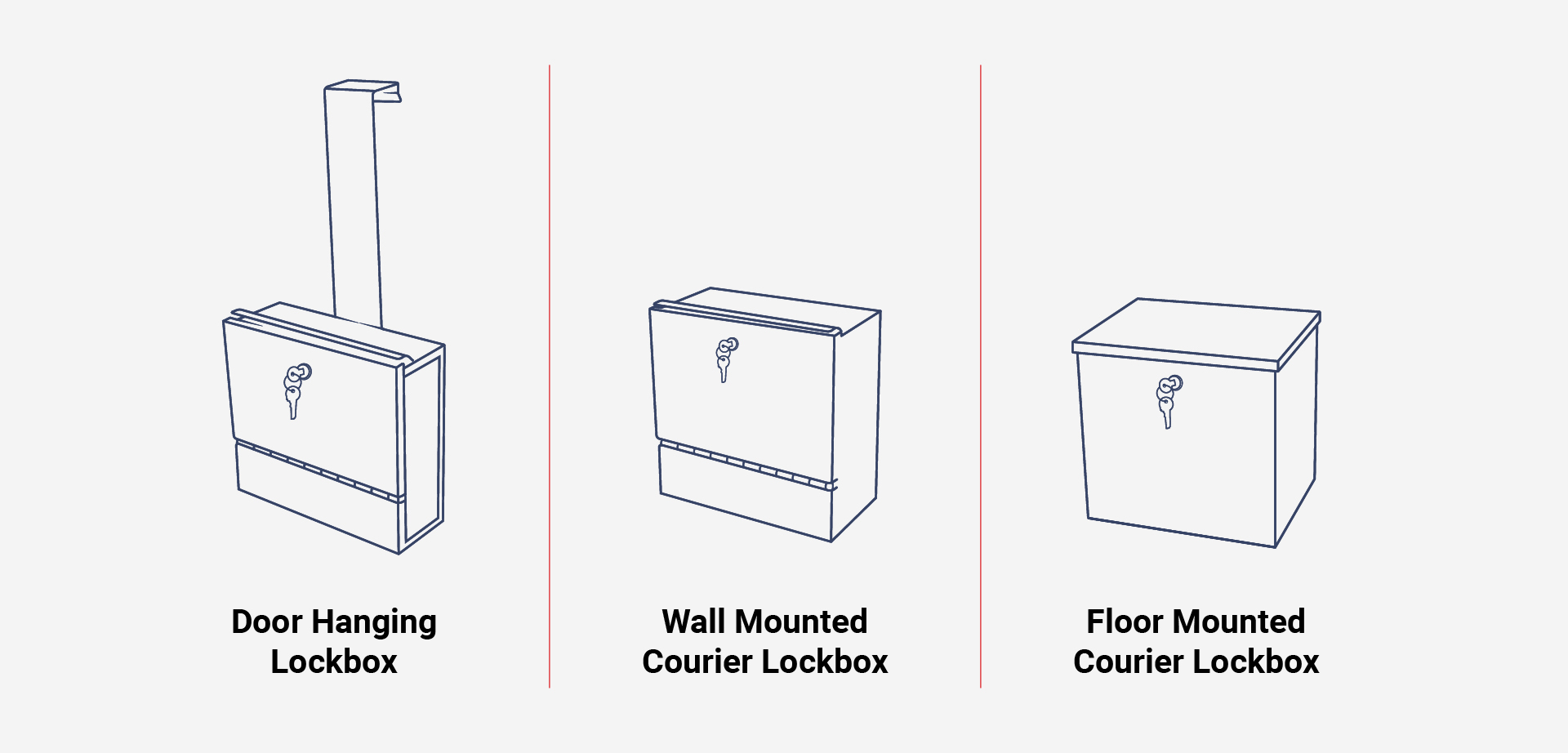 Size and Capacity: It's important to choose a lockbox that is the right size and capacity for your needs. Consider the size of the items you need to store, as well as how many items you need to store at once.
Security: Look for lockboxes that offer robust security features, such as strong materials, tamper-proof locks, and secure mounting options. Depending on the nature of the items being stored, you may also want to consider options like biometric or smart locks.
Temperature Control: If you are storing temperature-sensitive items, such as medications or samples, choose a lockbox with temperature control features like insulation.
Portability: If you need to transport your specimens frequently, look for options that allow for lightweight specimen containers like the ESC-10 which holds 2 specimens at a time.
Compliance: Depending on your industry or regulatory requirements, you may need to choose a lockbox that meets specific compliance standards, such as HIPAA compliance for healthcare organizations.
Durability: Look for lockboxes that are made from high-quality materials that can withstand the wear and tear of regular use. This is particularly important if you are using the lockbox in harsh or demanding environments.
Ease of Use: Choose a lockbox that is easy to use and operate, with features like clear labeling, easy-to-open locks, and simple maintenance requirements.
By considering these features when choosing a courier lab lockbox, you can ensure that you find an option that meets your specific needs and requirements.
Installing courier lab lockboxes
The installation process for courier lab lockboxes will depend on the specific type of lockbox you are using and where it will be installed. Here are some general steps to follow when installing lab lockbox.
Maintenance and upkeep of courier lab lockboxes
Proper maintenance and upkeep of courier lab lockboxes is essential to ensure their functionality and longevity. Here are some general tips for maintaining your lockbox:
Keep it clean: Regularly clean your lockbox using a soft cloth and mild detergent such as Simple Green. Avoid using harsh chemicals or abrasive materials that could damage the surface.
Lubricate the lock: Lubricating with WD-40 cleaner can will help prevent rust and ensure smooth operation.
Inspect regularly: Regularly inspect your lockbox for signs of wear and damage. Check the mounting hardware, hinges, and locking mechanisms to ensure they are secure and functioning properly.
Repair or replace damaged parts: If you notice any damage or signs of wear, repair or replace the affected parts immediately to prevent further damage or compromise to the security of the lockbox.
Keep it dry: Keep your lockbox dry and protected from the elements. Moisture and exposure to extreme temperatures can cause damage to the lockbox and its components.
By following these maintenance tips, you can help ensure the long-term functionality and security of your courier lab lockbox.
McShane is the leader in specimen lockboxes
In conclusion, McShane Metal Products is an excellent choice for anyone in need of courier lockboxes. With over 30 years of experience in the industry, we have established a reputation for providing high-quality and reliable lockboxes that meet the needs of our clients. We offer a wide range of customizable options to suit different requirements and preferences. Moreover, our team uses durable materials and advanced manufacturing techniques to ensure that their products are of the highest quality and can withstand harsh weather conditions and tampering. With a strong commitment to customer satisfaction, prompt delivery, and excellent customer service, McShane Metal Products is a reliable and trustworthy partner for all your courier lockbox needs.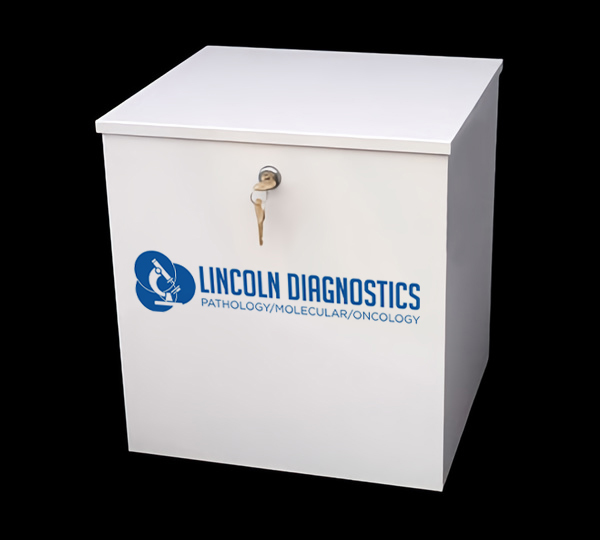 14 (H) X 13 (W) X 12 (D)

The KF300 Floor Lab Lock Box is a reliable storage solution for keeping your specimens safe and secure. This American-made lab lock box is carefully crafted with manual spot …
Unit Price (before options) From $82.20 + tax
Select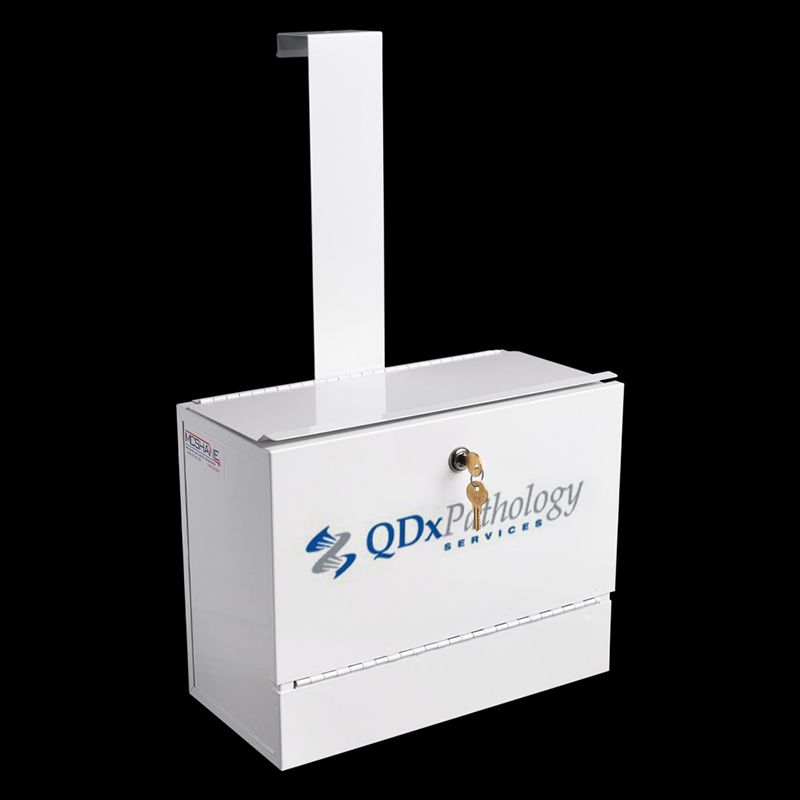 11 (H) X 14 (W) X 7 (D) (12″ Hanger)

McShane's medium door-hanging model laboratory specimen collection drop/lock box is perfect for any medical facility handling, storing, or transporting lab sample…
Unit Price (before options) From $82.85 + tax
Select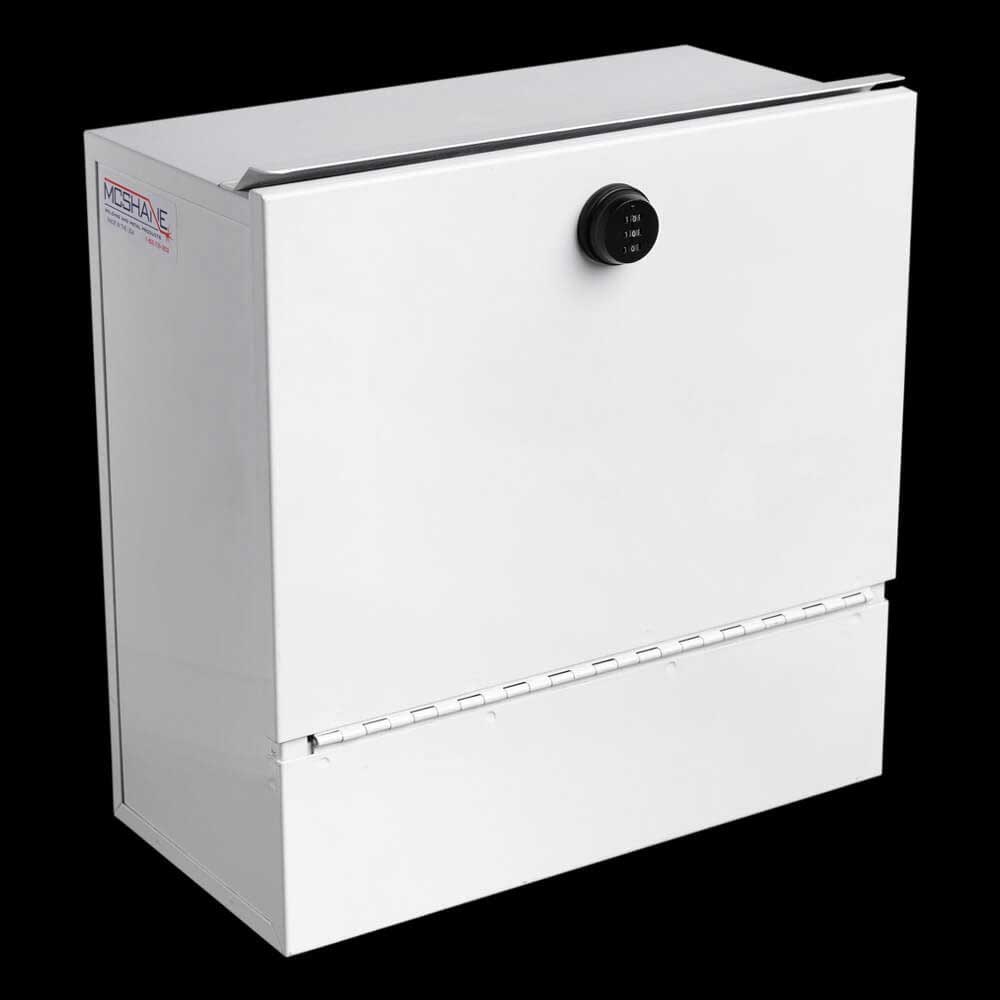 11 (H) X 14 (W) X 7 (D)
WALL MOUNTABLE – NO HANGER

The KH500-WM Lab Lock Box provides the ultimate protection for your specimens. This American-made lock box is hand-spot welded and designed to mount…
Unit Price (before options) From $80.90 + tax
Select