Global Research Teams Develop Self-Healing Concrete
The trouble with concrete is that it cracks.
No matter how carefully it's mixed or reinforced, all concrete eventually cracks. And given the right conditions, those cracks can lead to collapse.
But what if, in the future, the concrete structures that surround us were able to self-heal cracks? As it turns out, several research teams from around the world are developing just such a material.
Bioconcrete
Dutch microbiologist Henk Jonkers has been working on the project since 2006, when a concrete technologist asked him if it would be possible to use bacteria to make self-healing concrete. Three years later, he began to see some results.
How It Works
Jonkers' "bioconcrete" uses dormant bacillus bacteria and a food source (starch) embedded in the concrete. When a crack appears in the concrete, water seeps in and activates the bacteria. Once activated, the bacteria begin to germinate. They then consume the starch and then excrete calcite (i.e., limestone), which heals the crack.
- YouTube


The bacteria can survive dormant within the bioconcrete for up to 200 years. In real-world tests, Jonkers' bioconcrete has performed well, healing cracks almost completely within a few weeks.
Prof. Jonkers envisions his self-healing concrete as the start of a new age of "biological buildings," combining nature with construction materials.
BacillaFilla
Taking a slightly different approach, a team of British research students created a material which they called "BacillaFilla." Their project was part of a 2010 International Genetically Engineered Machine competition.
How It Works
The students programmed genetically modified bacteria to germinate only when triggered by the specific pH of concrete. (The bacteria that fail to do so are programmed to self-destruct.) Once the cells have germinated, they swarm down into the concrete's cracks. Once they've reached the bottom, they start clumping.
The clumping causes the cells to differentiate into three types: cells which produce calcium carbonate, cells which become reinforcing fibers, and cells which serve as a binding agent. Together these three cell types harden to the same strength as the surrounding concrete and …voila! The BacillaFilla knits the concrete structure together again.
–Article continues below–

Fun with Fungus
Beginning in 2013, Binghamton University assistant professor Congrui Jin was the first to attempt the application of fungi to create self-healing concrete. Jin and his university colleagues chose a fungus called Trichoderma reesei.
How It Works
Much like the bacteria used in bioconcrete and BacillaFilla, when this fungus is mixed with concrete, it lies dormant until the first crack appears. Once that happens, water and oxygen trigger the dormant fungal spores to germinate, grow and produce calcium carbonate.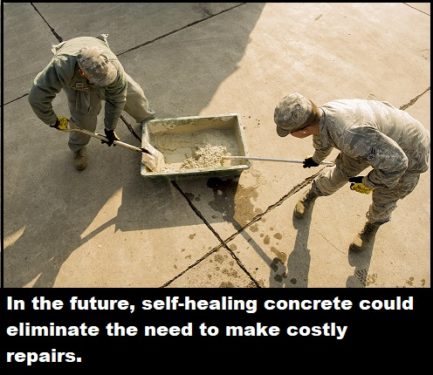 Research is still in the beginning stages, so don't expect a fungi concrete structure near you anytime soon. The team's biggest issue is the survivability of the fungus within the concrete's harsh environment.
Still, Jin and his fellow researchers are hopeful their self-healing concrete will one day provide a sustainable, low-cost solution to America's crumbling infrastructure.
Sources: