Children Overdosing on Opioids


A 10-month-old girl rolled over onto her father's heroin needle. By the time paramedics arrived, she had turned blue and was unresponsive. She had to be revived with the anti-overdose drug naloxone.
Meanwhile, an 8-year-old girl in the same city also required naloxone. She had consumed a mixture of opioids, cocaine and other medications.
Both children were removed from their parents and placed with family members.
In the past decade, this country has witnessed a rapid increase in the rate of pediatric opioid-related hospitalizations.
In fact, since 2004, the number of children admitted to hospitals for opioid overdose has nearly doubled. That's according to a recent University of Chicago study. The biggest increase was among kids ages 1 to 4, which the researchers attributed to "the exploratory nature of young children."
The Youngest Victims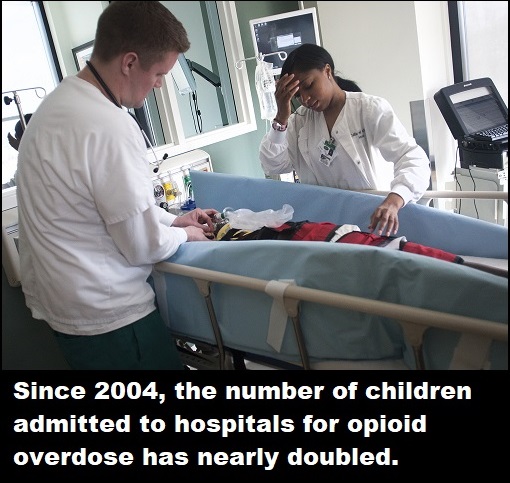 Hospitalizations were most common among kids aged 12-17 and those aged 1 to 5. "When they come in, they're going to fall into one of two categories. Either they're teenagers with intentional or drug-seeking behavior… or they're kids who got into their parents' medication," said Dr. Jason Kane, the study's lead author.
Furthermore, of the 3,647 patients in 31 children's hospitals across the country who were admitted with opioid-related diagnoses, 43% ended up in the pediatric intensive care unit. ICU is typically only reserved for the most severe, and life-threatening, cases.
And the vast majority were likely the result of accidental consumption of medications that had been prescribed to the children's parents, according to Kane.
"Children accidentally getting into medications is not a new phenomenon," Kane said. "But this is probably a reflection of the massive amount of drugs — opioid drugs — that are available to children in the community." (See related article, "Medications Leading Cause of Poisoning Deaths in Children.")
–Article continues below–

Other medical centers have noticed this increase, as well. For instance, Dr. Rajesh Daftary, a San Francisco pediatric medical director, said that the study confirms what his doctors have been seeing in their ER's. "Overall, we're seeing increased exposure to opioids by children," he said.
Access to Methadone?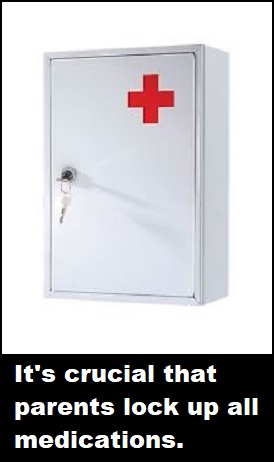 But what was most striking to Dr. Kane was the number of very young children who were treated for ingestion of methadone: 20 percent. (Methadone is prescribed for the treatment of opioid withdrawal symptoms and also as a pain killer.)
"So you sort of have to ask yourself: Where are they getting all this methadone from?"
Lock Up Your Meds
The study concluded that, "Current efforts to reduce adult opioid use have not curtailed the incidence of pediatric opioid ingestions, and additional efforts are needed to reduce preventable opioid exposure in children."
"These kids are really the secondary victims of this adult opioid epidemic," Kane said. He added that it is crucial that parents lock up all medications. They must be hidden and out of children's reach. (See related article, "Safeguarding Prescription Drugs with Medication Lock Boxes.")
Dr. Daftary concurs. "I counsel parents especially to make sure that, if these substances are at home, to have them in a locked space," he said.
Sources:
American Academy of Pediatrics