Fentanyl Is a Prolific Killer

Back at his Ohio police station following a traffic stop, Officer Chris Green instinctively brushed some white powder off of his shirt. Within minutes, he fell to the floor.
"I started talking weird," Green later reported. "I slowly felt my body shutting down. I could hear them (his fellow officers) talking, but I couldn't respond."
Paramedics quickly administered one dose of Narcan, the nasal spray version of naloxone, to reverse the lethal effects of an overdose. Then Green was transported to a local hospital, where he was given three more doses.
The white powder that Green had brushed off with his bare hand was fentanyl. It was a very small amount. And it almost killed him.
Deadly Beyond Belief
Of the 64,000 U.S. drug overdose deaths in 2016, about 56 percent involved fentanyl, according to the CDC.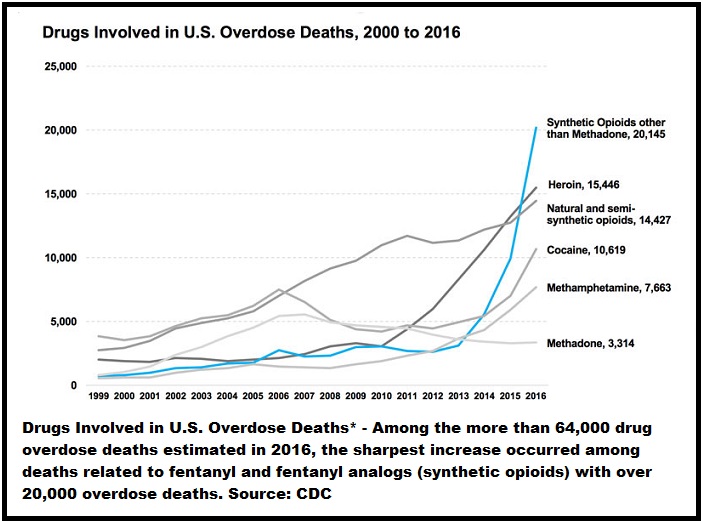 Fentanyl is far more potent than heroin—50 to 100 times more potent. It was developed in the 1960's to treat intense pain which occurs in the final stages of cancer. And its potency can work miracles. But it can also kill.
–Article Continues Below–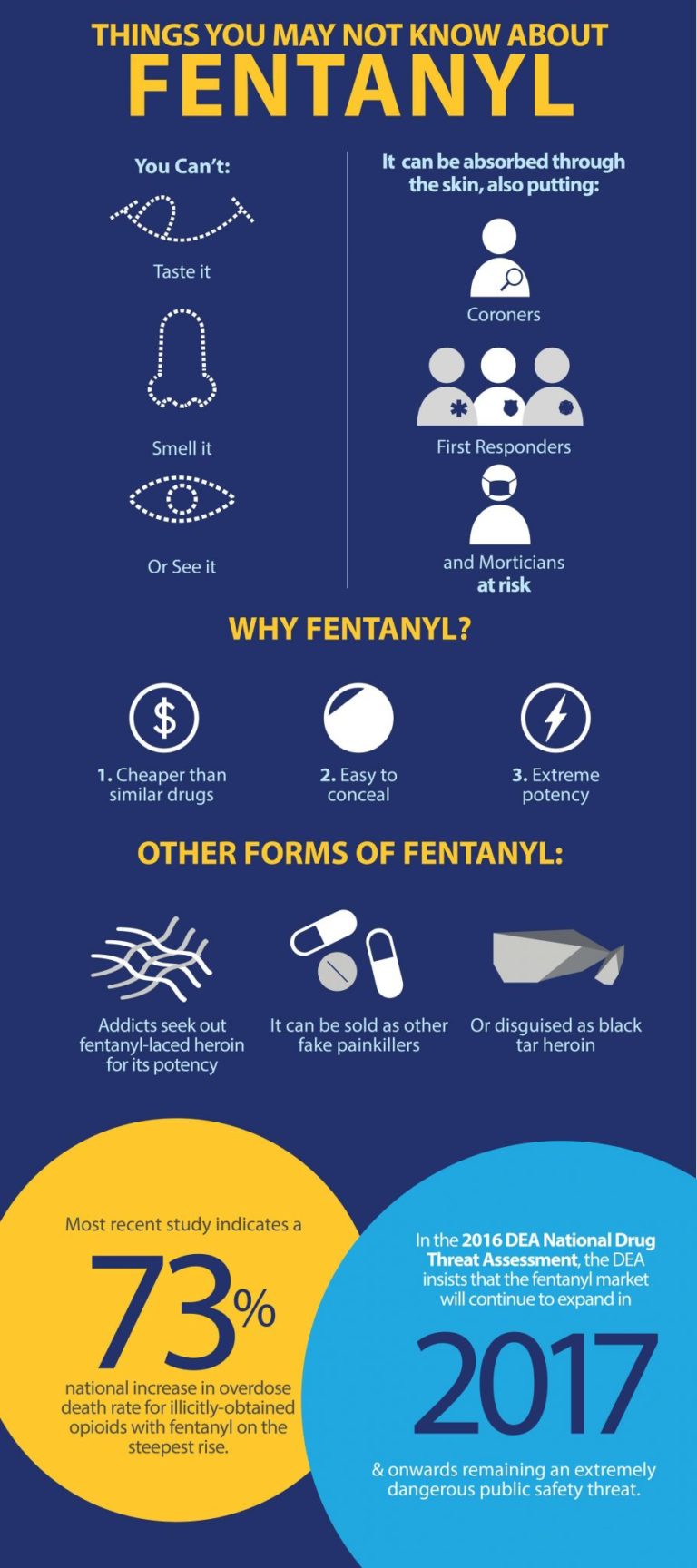 In fact, this opioid is such a prolific killer that standard gloves and face masks do not provide enough protection. Law enforcement officers must now wear Level A "hazmat" (hazardous materials) suits whenever they seize the drug. Level A is the highest protection level available—the same kind of suits health workers use to protect themselves against the deadly Ebola virus.
Last year, the DEA issued this safety alert to law enforcement:

Where's It Coming From?
Fentanyl is available legally with a prescription, but drug dealers are increasingly mixing it with heroin because it's much cheaper. Mexican drug cartels have been switching to it because of the high-profit margin. (The U.S. street cost is $10 to $20 per pill, depending on dosage.)
Underground labs in China are the major source of the illegal fentanyl currently flooding the U.S. market. And there appears to be no stopping it.
"China is by far the most significant manufacturer of illicit designer synthetic drugs," according to DEA spokesman Rusty Payne. "There's so much manufacturing of new drugs, [it's] amazing what's coming out of China. Hundreds of [versions], including synthetic fentanyl and fentanyl-based compounds."
The drug has only been illegal in China since 2015. That's when black market Chinese labs began increasing production of their own versions. For instance, the one turning up recently across the U.S. is called furanyl fentanyl. Medical experts believe this latest iteration could be 30 to 50 times more potent than other similar drugs.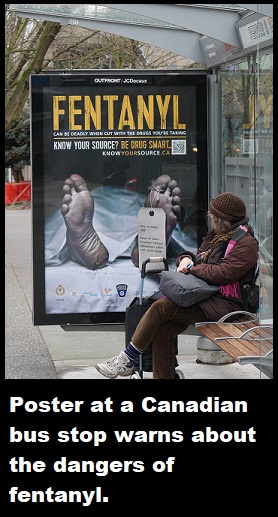 "China is by far the most significant manufacturer of illicit designer synthetic drugs." — DEA spokesman Rusty Payne
But Payne says China has recently "stepped up" to help curb the growing problem by working with the U.S. Last year, DEA acting administrator Chuck Rosenberg met with Beijing drug control officials at the invitation of the China Ministry of Public Security to discuss the issue.
Even More Dangerous
Connecticut physician Dr. Craig Allen treats patients with substance abuse problems. He believes furanyl fentanyl is even more dangerous than regular fentanyl. One reason is that treatment is so difficult.
"They're not responding to our normal protocol when we try to get someone off of these powerful drugs," Allen said. (The Wall Street Journal recently documented one family's harrowing ordeal.)
Fentanyl (and its variants) is made to mimic the appearance of other opioids. Users are often not even aware that it has been mixed in with heroin or other drugs until it's too late.
And one dose the size of a grain of sand can prove deadly.
Sources: