Opioids Pose Serious Risk for Drug-Sniffing K-9 Partners


Police Detective Andy Weiman knew something was wrong almost immediately. His partner was acting strangely.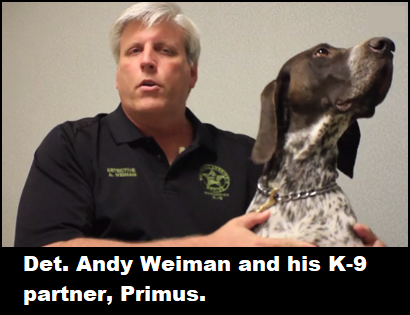 "He wouldn't drink water. He would release his toy very easily. And he was looking lethargic, almost sedated," Weiman said. Weiman's partner is a German short-haired pointer named Primus.
As a police K-9 unit in the Broward County, Fla., Sheriff's Department, they had assisted in a federal drug raid earlier that morning. Now, Primus was exhibiting signs of opioid overdose and was in serious distress.
Primus was rushed to a local animal hospital and administered Narcan just in time. Within a few hours, he had completely recovered. By the next day, he was back on the job.
Workin' Like a Dog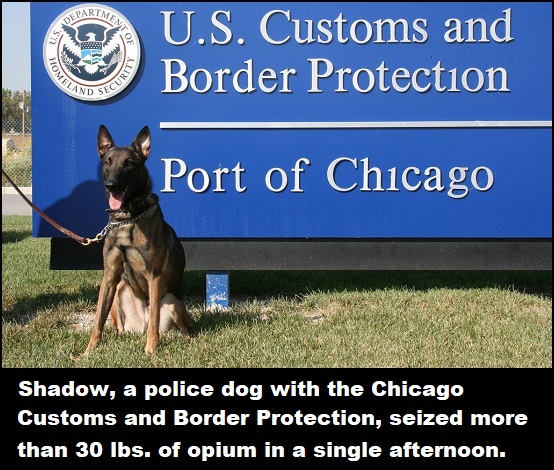 For police K-9 units, the daily hazards of sniffing out drugs are very real. But the exact number of police dogs that suffer from opioid overdose is unknown, because there's currently no national database. (Veterinarians from the University of Illinois are trying to correct that.) However, according to Working Dog HQ, at least 36 police dogs died in 2015 from exposure to heroin.
In recent years, DEA officials have issued warnings about the risk of opioids (particularly, fentanyl) to police dogs. "Canine units are particularly at risk of immediate death from inhaling fentanyl," DEA officials wrote in June 2016.
Fentanyl is so potent that a few grains can be deadly. It can be ingested, inhaled or absorbed through the skin and mucous membranes. And because drug dealers cut other drugs with it, fentanyl is often a hidden menace, especially for dogs using their noses to pick up a scent.
"If fentanyl is loose in an environment, it can spread out where a dog can absorb it through his pads. He could sniff it up through his jowls," Det. Weiman said.
"And fentanyl is so toxic, so strong, that the very smallest amount of it — that you couldn't even see — could affect the dog. You wouldn't know they've even ingested it."
Extra K-9 Precautions
Which is why police officers are now taking extra precautions to protect their K-9 partners and themselves. For instance, they're being trained on how to administer Narcan to their K-9's, and they carry the overdose-reversal drug with them at all times. Here's how they do it in the Boston area:

In addition to administering Narcan, several states (including Illinois, Mississippi and New York) now allow injured police dogs to be transported in ambulances whenever they are available. The passage of similar laws is being proposed in other states, such as California and Michigan.
K-9 Training Day
Ever wonder how police dogs are able to sniff out hidden drugs? Is it because they want to eat the drugs, or because they're addicted to them? Thankfully, it's neither.
–Article Continues Below–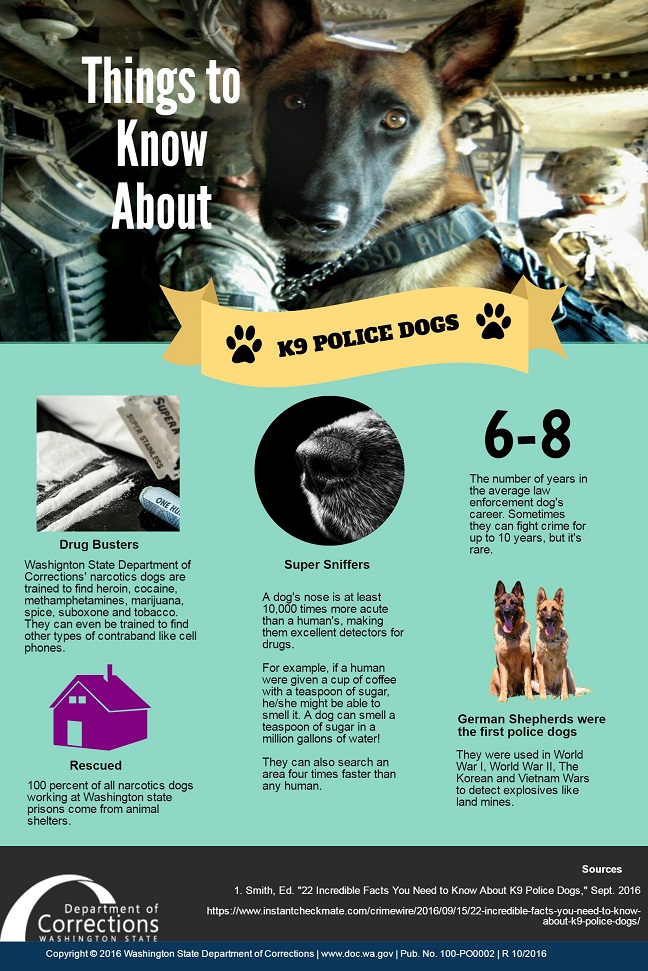 In fact, the dogs have absolutely no interest in the drugs. Instead, they're actually looking for their favorite toy. They've been trained to associate that toy with the smell of drugs. Here's how:
The toy used most often is a white towel. (Police dogs love to play a vigorous game of tug-of-war with their favorite towel.) To begin the training, the handler simply plays with the dog and a freshly washed towel.
Later, a bag of marijuana is rolled up inside the towel. After playing for a while, the dog starts to recognize the smell of marijuana as the smell of his favorite toy.
The handler then hides the towel, with the drugs, in various places.
Whenever the dog sniffs out the drugs, he digs and scratches, trying to get to his toy. He soon learns that, by finding the drugs, he'll be rewarded with a game of tug-of-war.
As training progresses, different drugs are placed in the towel, until the dog is able to sniff out a host of illegal substances.
Take a look at some puppies in training at the University of Pennsylvania's Working Dog Center:

And Then There's Sombra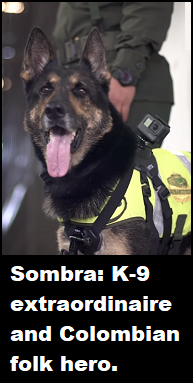 Down in Colombia, there lives a legendary K-9 officer named Sombra. Over the last several years, her radar nose has led to 245 arrests and the seizure of at least nine tons of illicit drugs.
She's become somewhat of a celebrity and folk hero among the general populace. For the "Urabeños," the country's most powerful drug cartel, she's become a torment. So much so that they've even placed a bounty on her head, to the tune of $70,000 U.S. dollars.
The Colombian national police aren't taking any chances when it comes to protecting their number one K-9. They recently transferred Sombra to Bogota's El Dorado International Airport, outside the Urabeños territory, where she's often asked to pose for selfies with admirers. They've also posted additional officers to accompany her on her rounds, where she continues to thrust her trained snout into luggage and packages.
For the furry face of Colombia's anti-drug effort, it's all in a day's work.
Sources: